This winter, BeoCom 2 will be unveiled in new clear colours. The Bang & Olufsen telephone that is already renowned for its bold design and unconventional shape is now available in high polished crisp colours to warm up the cold season.
BeoCom 2 is one of Bang and Olufsen's all-time design icons. Crafted from a single piece of aluminium, the popular handset rises up from its base in a gentle curve and challenges conventional assumptions about telephone design. With its remarkable appearance, BeoCom 2 doesn't look, feel or sound like any other cordless telephone.
Powerful polish – perfect for presents
BeoCom 2 is now available in an updated colour scheme with even more character and edge than its predecessors. The new range includes seven strong colours. The existing blue, black, grey, yellow and natural aluminium have been polished and thus intensified, resulting in an even more outstanding expression. The shiny look is already represented in the range by the recently launched white BeoCom 2. The new colour scheme also includes a bright red version – perfectly suited to be wrapped and placed under the Christmas tree.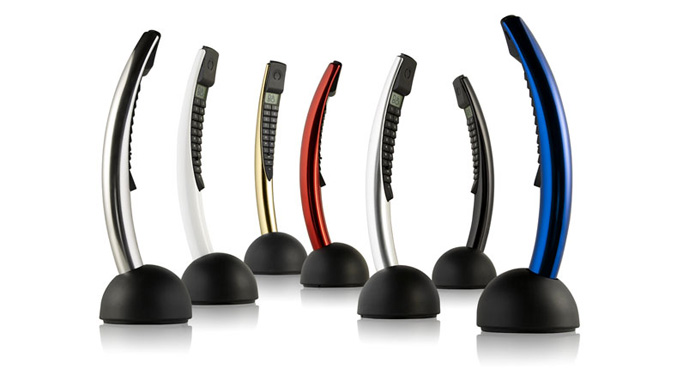 Besides lending depth and lustre to the unique design of BeoCom 2, the strong, vibrant colours match other coloured aluminium products in the Bang & Olufsen portfolio such as the red BeoVision 7 or the blue BeoLab 6000. All seven new colours are characterised by a taut exclusive tone that signals the present – but with enough edge for long-term relevance.
Productive challenges
The development of the new colours of BeoCom 2 is yet another example of how Bang & Olufsen challenges the boundaries of what is possible in order to obtain outstanding results.
As the tubes are anodised and polished before getting milled into their final shape the elegant surfaces risk being scratched by the metal shavings that are cut off. As Bang & Olufsen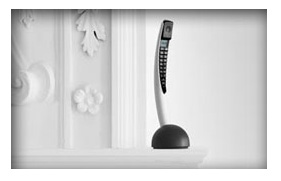 production engineers prefer seeking challenges instead of giving up, they immediately started up an extensive search for ways to cover the glossy aluminium during the milling process.
Change Management Coordinator, Carsten Leedsøe, who is responsible for coordinating production changes, knew he had to find an unconventional solution and went to the local electricians, who use crimping foil as protection of delicate surfaces, for a solution. As it turned out this was not a feasible solution, the production engineers tried out experiments with liquid latex as well. After several different attempts, they decided to go for a solution with a German lacquer supplier who supplied the production department with a protective lacquer. This lacquer protects the elegant metallic surfaces with a rubbery layer. The lacquer is also used in the car industry to avoid scratches when handling the final finish of the cars. Besides giving perfect protection to the polished BeoCom 2 tubes, this lacquer is easy to handle and peel off after the milling.
"Although it took quite some time to find the right solution, we think there are several advantages using this method, e.g. higher production flexibility. At the same time we have been able to use our existing machines and equipment, as we already had a lacquer system available. We are very pleased with this solution. The outstanding result of the new BeoCom 2 colours makes the time spent and all our efforts worthwhile," says Leedsøe.
Source: Bang & Olufsen