Samsung has officially unveiled two new handsets – the Galaxy Ace 2 and Galaxy mini 2 that will be first launched in Europe later this year.
Building on the market success of Galaxy Ace and Galaxy mini since their release last year, Galaxy Ace 2 and Galaxy mini 2 are ideal devices for users with active lifestyles who value individuality and style without compromising on performance or affordability.
"Launched in 2011, Galaxy Ace and Galaxy mini have been a huge success in the global market. Today, we introduce Galaxy Ace 2 and Galaxy mini 2 with upgraded features and services," said JK Shin, President of IT & Mobile Communications Division at Samsung Electronics. "Our goal remains the same – to continue to create new and improved mobile experiences that deliver something suitable for everyone. This is the hallmark of Samsung's Galaxy range and what has made the Galaxy brand such a runaway hit with consumers around the world."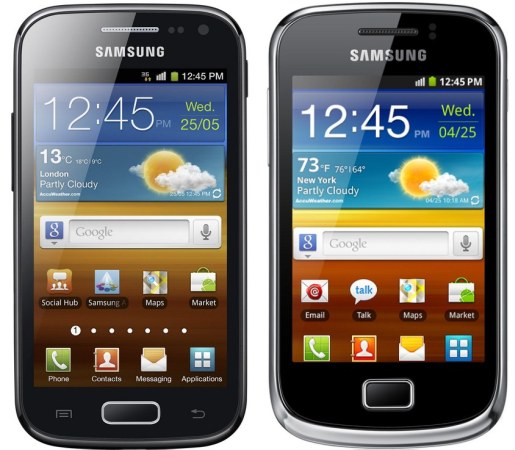 Just like before the Galaxy Ace 2 is the better handset specs wise, coming with a dual-core 800 MHz processor, HSDPA 14.4 connectivity, GPS/GLONASS, 1,500 mAh battery and 4 GB of internal storage hiding behind its 3.8-inch WVGA screen.
The mini 2 on the other hand boasts with HSDPA 7.2 Mbps connectivity, an 800 MHz processor, 1300 mAh battery and 3.27-inch HVGA screen. Both phones will run Android 2.3 Gingerbread when they ship.
Commercial availability for the Ace 2 is expected in April 2012 with the handset making its debut in the UK, while the mini 2 will first arrive in France in March before beginning a worldwide rollout. Pricing as of now is not known.

Source: Engadget