GreatCall, Inc.  announced the national availability of its new Jitterbug J cell phone and expanded rate plans offering more affordable options to a wider range of consumer needs.
The Jitterbug J cell phone is GreatCall's next generation device that supports the option of expanded easy-to-use services, while maintaining the leadership trademark of wireless simplicity that the Jitterbug brand is known for. This "sabest of both worlds" combination is made possible through the Jitterbug J's unique technical design that allows users to easily turn features on and off as they wish. This approach, paired with a sleek and stylish new handset, makes the Jitterbug J a great companion for people seeking a lifestyle of simplicity. The new Jitterbug J also offers new more affordable rate plans as well as the company's 24/7 U.S. based customer service and friendly operators who greet callers by name.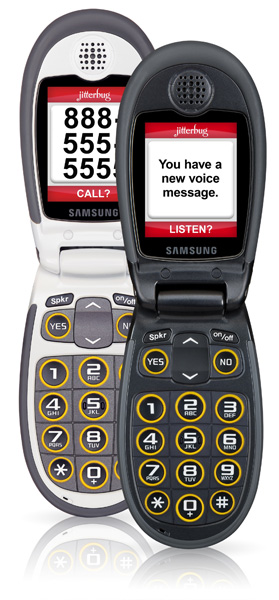 "We've taken the best of our award winning experience and made improvements based on the feedback from our growing family of customers," said David Inns, GreatCall CEO. "Everyone will appreciate its simplicity and sleek, elegant style. While the new Jitterbug J includes more service features our customers have been asking for, these features have been designed for ease-of-use and each can be turned on or off as a person wishes – so that it retains all of its intuitive simplicity," said Inns.
Since its 2006 debut, the award winning Jitterbug cell phone and service has been widely praised for its smart feature set, ease of use, and absence of "feature overload." "The Jitterbug J raises the bar to a new level of simplicity," said Arlene Harris, Jitterbug founder and Chairwoman. "We continue to execute on the vision with a unique focus on offering the most elegant cellular experience available, and with the new Jitterbug J we continue to put customers first, setting the performance bar for excellence in the wireless industry. Our new handset technology paired with our robust device and customer management system provides the foundation for many new lifestyle enhancing functions for customers to choose from that Jitterbug and our partners will develop in the coming months and years," said Harris. New and Improved:
Jitterbug J Appeals to Any Generation
Jitterbug customers are most interested in services that help them stay in touch with friends and family, increase productivity in their fast-paced lives and that help them manage their health and well-being. Unlike current mass cellular offerings, each Jitterbug J function comes with a complete service component. In addition, the new Jitterbug J is based on a dynamic over-the-air system that allows customers to easily access new applications for their phone from "MyJitterbug.com" – the company's personal and easy-to-use services management website. All new applications will be supported with a collection of customer care and online services and will be easily accessible through Jitterbug's new services store.
For example, "MyCalendar" is a new service that Jitterbug will launch this summer, which can be turned on and kept up to date by either using MyJitterbug.com or by simply calling one of the friendly Jitterbug operators. No complicated navigation or key tapping. Such "high touch" service gives customers as much independence or "always on" personalized operator assistance as they want.

Key Features of the New Jitterbug J:
Updated, slim and sleek design while still being comfortable in the hand yet retaining all of the great features like the noise reduction ear piece, dial tone, comfortable keypad with larger backlit buttons and easy to read text
Wireless headset, hands free and other wireless accessories are enabled by Bluetooth technology, with simple step by step instructions
Improved and even easier-to-use screen navigation
Ability to personalize ring tones and screen colors; with special emphasis on providing audible tones for those with hearing loss
Upfront speakerphone button makes activation very friendly
Call waiting
30% longer battery life on stand-by
Key Services with the New Jitterbug J:
MyCalendar — customers already call the Jitterbug operators or go to MyJitterbug.com to enter and manage their phone book – now they can manage their calendar too! All entries can be done online (by the customer or a family member) or the operator can enter appointments for them, and the phone is updated over-the-air to provide a view and reminder.
SimpleText — helps customers keep in touch with text messaging; using messages from a unique prewritten "message library" or typical word entry for a more personal message.
LiveNurse — provides customers with unlimited access to a registered nurse 24/7 as well as access to a health information library featuring up to date information on hundreds of health related topics.
Jitterbug Complete Care — a services package that includes Jitterbug Roadside Assistance, "No questions asked" handset replacement, and the Jitterbug LiveNurse. All this for a combined price of only $9/month.
A new suite of more affordable service plans is also now available – offering monthly service without contracts that will appeal to those who like to stay in touch more often as well as to those who want a little less. For those who want to share their minutes with family and friends, Jitterbug offers SimplyShareTM plans, which include unlimited Jitterbug-to-Jitterbug calling amongst the growing number of customers. Additional details on the Jitterbug service plans can be reviewed at http://www.jitterbug.com/RatePlans/.
The new Jitterbug J will retail for $147 and includes a free car charger. To purchase the new Jitterbug J call directly at 1-800-918-8543, online at jitterbug.com or at select retailers including Sears, Radio Shack, CVS and ShopKo. Visit our store locator online to find a retailer near you.
Source: Press Release