Fujitsu today announced that it has codeveloped a sensing technology that accurately measures the body movements of a person carrying a sensor-equipped mobile phone. The technology was developed in collaboration with Mr. Kajiro Watanabe, the president of Sensing Control Lab Co., Ltd. and a professor at Hosei University in Japan. The first commercialization of this technology, "ETGA Swing Lesson", is a mobile phone application that analyzes golf swings under the guidance of professional golfer Mr. Tadashi Ezure.
Using the mobile phone's built-in sensors, the application gathers motion data, which is then fed into a 3D motion sensing engine to analyze and assess the path of the user's golf swing and provide advice based on professional golfer Mr. Tadashi Ezure's golf principles. It also allows users to compare each swing against their past best recorded swings, making it a full-featured swing-diagnosis program. In addition, the application can connect to a number of related online mobile services, including a variety of services planned with Golf Digest Online Inc.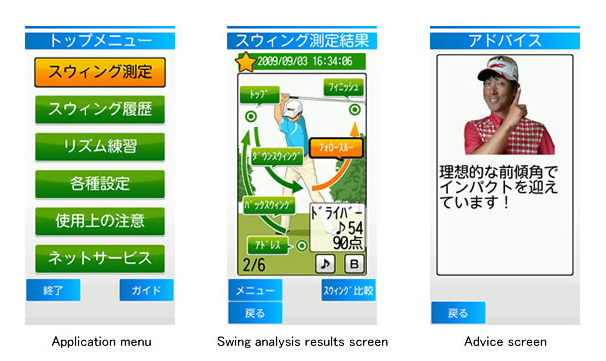 By equipping mobile phones with different sensors developed in-house and using them to measure data from the user's body, Fujitsu is working to offer users "human-centric solutions" that contribute to their health, sports activities, and lifestyle. The company is also actively developing other services and mobile phone capabilities that incorporate specialized knowledge from various fields.
Fujitsu plans to include the new application on its forthcoming mobile phone products. Visitors to the Fujitsu booth at CEATEC JAPAN 2009, opening October 6, 2009, at Makuhari Messe, will be able to try it out for themselves.
Source: Fujitsu