Motorola, Inc. announced the MC55, the newest, smallest and lightest addition to Motorola's family of Enterprise Digital Assistants (EDA) offering a 3.5 inch display.
Designed for mobile workers inside and outside an organization's four walls and leveraging Motorola's mobile computing platform architecture, the MC55 EDA combines the power of a cell phone, two-way radio, bar code scanner, digital camera, and mobile computer into a compact and lightweight design. The new MC55 EDA enables mobile workers to improve productivity, customer response times and customer service levels by bringing business-critical voice, data and applications to the point of business activity.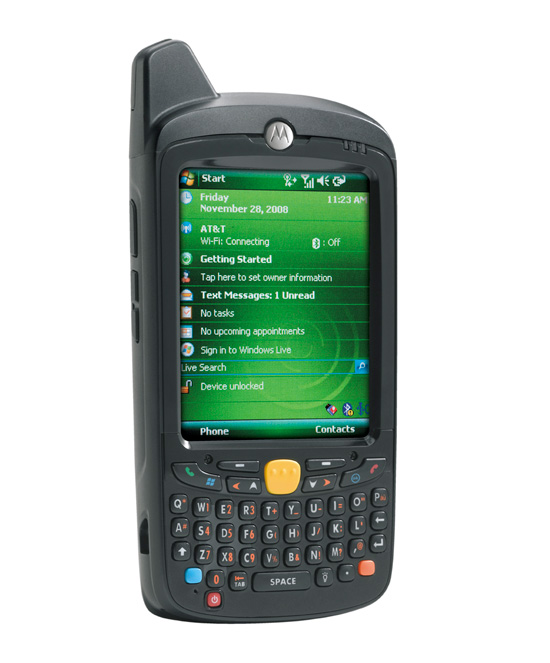 The sleek and size-optimized MC55 EDA increases the effectiveness of mobile workforces—solving customer pain points in retail, healthcare, field service, government and public safety, while giving Motorola PartnerSelect partners a versatile solution to meet customer needs by combining a multitude of communications tools into one robust business class device. The MC55 mid-range EDA supports the GSM/GPRS/EDGE standard for wireless wide-area networks, offering voice and data services to provide the information needed for better decision making and business results. With an array of features, like integrated GPS, the new MC55 EDA supports a host of real-time location-based applications, including directions for drivers and real-time fleet location, geo-fencing and bread-crumbing for dispatchers.
To best meet the requirements of a diverse set of mobile workers across multiple industries, the new MC55 EDA is available in two models and multiple configurations. Sporting a monocoque housing, the MC55 is not only rugged to withstand the rigors of everyday use, but is the smallest Motorola mobile computer offering a 3.5 inch display with full keyboard for ease of use. Motorola has also developed a rich ecosystem of accessories for the MC55, making the device highly scalable to meet diverse business needs. Motorola PartnerSelect partners now have more flexibility to provide enterprise customers with the right feature set for different types of workers – instead of all features for all workers – reducing capital expenditures and the overall cost of a mobility solution.
"As a leader in the handheld mobile computing market, Motorola constantly innovates to provide customers with the most versatile enterprise mobility tools for improving productivity and streamlining operational efficiencies," said Bob Chen, vice president and general manager of Mobile Computing, Motorola Enterprise Mobility. "The MC55 illustrates Motorola's ability to help mobile workers work without boundaries, with robust connectivity to mission-critical business applications in a compact business-class device."
Each of the MC55 models is designed to meet the needs of a specific type of mobile worker – those inside the four walls, those outside, and those that work in both environments. The MC5590 EDA offers wireless 802.11a/b/g LAN (WLAN) and Bluetooth® connectivity for workers mostly inside the four walls – including healthcare workers in a hospital environment, as well as retail or hospitality associates.  The MC5574 EDA comes equipped with wireless WAN (WWAN), wireless LAN (WLAN) and Bluetooth to support workers in the field, including maintenance personnel and postal and delivery workers. In addition, the MC5590 and the MC5574 EDAs are VoIP enabled offering the capabilities of Push-To-Talk (PTT), as well as the ability to support soft phone clients and integration with installed IP PBXs.
"Motorola continues to demonstrate its high standards for product quality with the introduction of the new MC55 EDA — uniquely designed for mobile workers inside and outside the enterprise," said Chuck Dietrich, vice president of Mobile, salesforce.com.  "Our relationship with Motorola provides salesforce.com enterprise customers with rugged solutions for accessing data and applications through Salesforce CRM Mobile and ISV applications built on the Force.com platform.  And with the MC55, we are able to provide our customer-base with an incredibly powerful option for boosting field service productivity in any vertical market."
In combination with Motorola's recently introduced Total Enterprise Access and Mobility (TEAM) Express solution, the MC55 enables customers to further improve operational efficiencies and employee productivity by providing associates with virtually instant communications. The TEAM Express solution provides Push-To-Talk capability between the MC55 and other enterprise mobility devices including Motorola's CA50 VoIP-enabled wireless bar code scanner, the 3G MC75 premium EDA, TEAM VoWLAN smartphones, and Motorola two-way radios. By leveraging an existing WLAN infrastructure, this server-less solution provides a fast, easy to deploy path to basic interoperable voice communications inside the enterprise.
The MC55 is based on the Marvell XScale PXA270 520 MHz processor and Microsoft® Windows® Mobile 6.1 operating system to provide increased interoperability with existing enterprise infrastructure, enhanced security features, a flexible development platform and improved mobile messaging. The MC55 EDA family of products also offers a variety of data capture options to provide increased flexibility among mobile workforces, including a 1D laser scanner or 2D imager. A 2-megapixel auto-focus high-resolution digital color camera can be added to either the scanner or imager to allow for easy capture of a signature (document capture) or a photograph (image capture) for proof of condition or delivery.
To help customers maintain peak performance, Enterprise Mobility Services recommends Service from the Start with Comprehensive Coverage for the MC55. From the first day of the hardware purchase, customers can rest assured that no matter what is damaged — from broken displays, keypads, and internal and external components to select accessories — the repair is covered. This significantly reduces unforeseen repair expenses while providing investment protection and service peace of mind.
The MC5590 and MC5574 EDAs are available worldwide through Motorola PartnerSelect members and Motorola sales.
For more details about the MC55, please visit www.motorola.com/mc55.
Source: Press Release