Google rolls out new Android Market update which along with the new look, tweaks and user interface, brings and some new features.
The new version is available for Android 2.2+ devices and will allow to sign into Android Market with your Google account and to buy books and rent movies, starting at $1.99 per title. When you purchase or rent a book or movie, they will be linked to your account and will become available across all multiple devices, such as smartphones, tablets, and laptops. Unfortunately this rental/purchase feature is only available for the US, and will come to select regions only.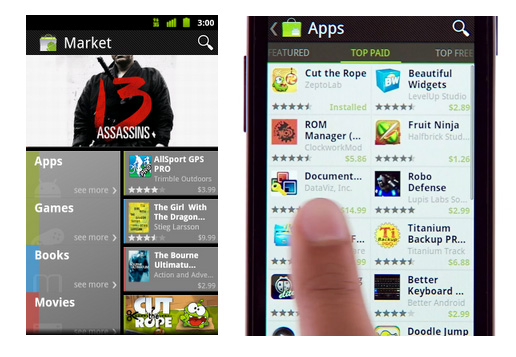 Google also has added more top charts, collections, with newer more relevant content, the home screen has a new promotional page that highlights the top content, as well as some  changes to the app details page.
Check the video of the new redesigned Android Market.
The new, upgraded Android Market is expected t to be accessible worldwide in the coming weeks.