The leading mobile phone provider, Samsung Electronics, announced the first smart phone, Samsung Galaxy Beam that features a projector. The smartphone will be available to StarHub customers from the 17th of July, 2010.
The Galaxy Beam by Samsung is set to "illuminate" the future of smartphones with its built-in Pico Projector combined with power-packed features plus a crystal clear Super AMOLED Display.
"StarHub is pleased to be the first operator globally to launch Samsung Galaxy Beam, a highly innovative, world's first Smart Projector Phone. The Android platform has been gaining ground in many smartphone markets worldwide and the Galaxy Beam marries exciting features such as StarHub's mobile TV app, offering projection of a mobile TV programme on the wall. This unique smartphone also allows business customers to display presentations on the wall during business discussions," said Mr Ng Long Shyang, Head of Sales, StarHub. "Our collaboration with Samsung to bring this world's first device demonstrates our commitment to be the leading mobile service provider by offering consumers an unrivalled immersive experience in mobile communications."
"The Galaxy Beam combines the best of both worlds, offering users the technological capabilities and features to enjoy entertainment and work functions on a smartphone – now with an enhanced experience thanks to the built-in projector feature. We believe the Samsung Galaxy Beam will capture the imagination of users who demand the option of either enjoying their favorite media files on their Super AMOLED screens or projecting them to share with friends and colleagues. The Galaxy Beam will bring us one step further to achieving our vision of providing a smartphone for every lifestyle, in order to drive the mass adoption of smartphones," said Mr Sung-Hyun Moon,Managing Director, Samsung Asia Pte Ltd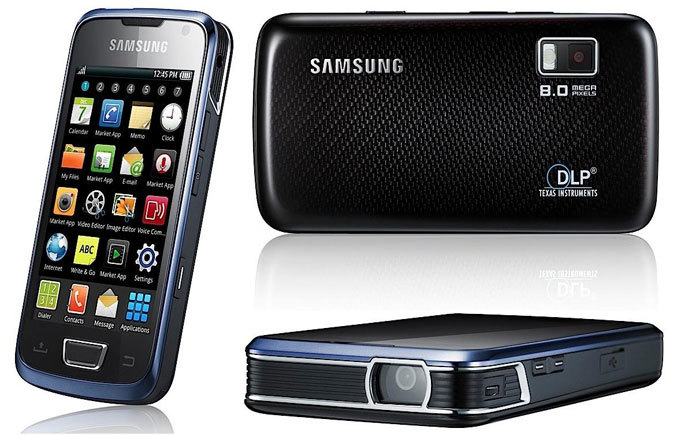 The built-in multimedia Pico Projector provides the ability to share entertaining moments with family and friend by watching National Geographic Channel or Disney Channel, or just browsing photo albums or streaming YouTube videos through MobiClip.
The Samsung Galaxy Beam comes with a highly responsive 3.7 inch WVGA Super AMOLED Display, Android 2.1, 8 megapixel camera and multi video codec support, a built-in Texas Instruments Pico projector and much more.
The smart projector phone is designed for consumers with a rich mobile web experience. It can handle a projection screen size of five to fifty inches, altering between a personal home theater system and a portable business projector to suit every need.
With Android 2.1, consumers will have access to thousands of application on the Android Market.
The battery life of the Samsung Galaxy Beam is also very impressive with up to seven hours of continuous talk time and 530 hours of standby time.
The Samsung Galaxy Beam smart projector phone will be available on all StarHub shops and outlets of selective Exclusive Partners from the 17th of July, 2010, from as low as zero dollars on different price plans.
Specifications:
Network

HSUPA 5.76 Mbps / HSDPA 7.2Mbps

3G (900 / 1900 / 2100 MHz)

EDGE, GPRS

GSM Quad Band (850 / 900 / 1800 / 1900 MHz)

OS

Android 2.1

Display

3.7" WVGA SUPER AMOLED

Camera

8.0 mega-pixel Camera + Auto focus with Flash (Front: VGA)

Video

MPEG4, H.263, H.264, WMV, DivX, Xvid

Audio

MP3, AAC, AAC+, eAAC+, WMA

Value-added Features

Integrated Messaging 'Social Hub' (basic)

Android Market for more applications and contents

FM Radio

Augmented Reality with Layar Reality Browser

SMS/ MMS/ Email/ Exchange ActiveSync

Sensor: Accelerometer, Proximity

Offline & No SIM Mode, Handwriting Recognition: English & Simplified Chinese

RSS Reader, Mobile Widgets

Connectivity

Bluetooth Technology v 3.0

USB v2.0 (High-Speed)

Wi-Fi 802.11 b/g/n

AllShare (DLNA)

Mobile AP (wireless Internet tethering)

TV Out

GPS

Memory

4Gb + 2Gb + 1Gb + 16Gb MoviNAND

Size

123 x 59.8 x 14.9 mm, 155g

Battery

1800 mAh

Talktime: 7 hours (3G)

Standby: 530 hours (3G)