Acer Stream, the Android high-end multimedia smartphone from the Taiwanese company was announced toady. It packs 3.7-inch AMOLED touchscreen screen, powered by 1GHz Snapdragon processor, has 512 MB RAM and runs Android version 2.1, or also known as Éclair.
Announced also as "optimized for watching movies, listening to music and enjoying web browsing like at home", the handset offers 720p videos, Dolby Mobile for an enhanced music experience, a 5MP camera, HSDPA 7.2, WiFi n, Bluetooth, 2GB of internal Flash memory, bundle 8GB memory card, micro-SD card slot and integrated GPS system allow photos and videos to be geotagged. There's also HDMI port if you prefer to watch content on bigger screens and UPnP technology enables content sharing with other devices. In case just 11.2 mm thick,  Acer also bulge: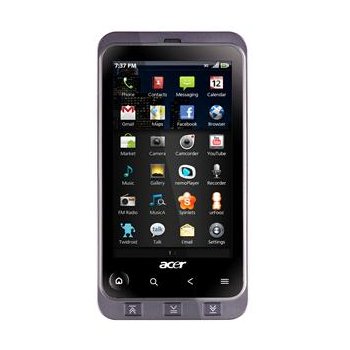 "The completely brand new user interface has been totally redesigned in order to focus on what is essential to users and guarantee a simple and quick access to what matters to them.
Enjoy smooth animations and fine graphics: surf between photos and video thanks to the stunningly fluid 3D interface and unlock the phone by a 'peeling' gesture, assure a cool but very functional detail!
Read information straight from the lock screen widget: accessing ambient information on the idle screen gives the user what he needs before he even asks for it.
Quickly start your favorite applications with one tap: the status bar appears as an innovative divider between logical spaces. It shows all the essential information, providing shortcuts to most frequently used settings and its position allows a very easy access to the settings or notifications.
Easily switch applications with the History panel: the top part of the Home screen has been dedicated to applications history, with the benefit of reducing complexity and providing significant cues for navigation.
Reorder applications across several pages at their convenience: Apps can be moved around from one page to another or easily uninstalled by simply dragging them to the bin.
Customize the phone according to specific needs:a simple customization page accessible from the Home screen will be a pleasant surprise, enabling customers to tailor their smartphone through wallpaper and sound personalization.
Coupled with three types of predictive keyboards, a smart dialer and a redesigned contacts list, the Acer user interface makes using the smartphone an efficient and delightful experience.
Social and entertaining: All the most popular applications are pre-installed: Nemo player to enjoy multimedia content to the fullest, Acer UrFooz to create your virtual "look-a-like", add your profile and bookmarks and post it to your social networks, Facebook™ and Twidroid perfectly integrated into the address book.
And for music addicts Acer Stream features Spinlets™, a completely free streaming service that lets you browse and listen to major music labels and record companies for great music and instantly post what you find to your favorite Social Networking sites."