AT&T, HTC and Samsung have announced the first LTE phones to launch on AT&T's new network. These are the HTC Vivid and Samsung's Galaxy S II Skyrocket.
The HTC Vivid resembles the Evo 3D phone but trades the WiMax baseband for LTE, gets rid of the 3D camera and enlarges the whole device to 4.5″. At the same time it retains the qHD display. The phone features 1.2GHz dual-core Qualcomm APQ8060 processor, which provides more than enough power and keeps the 8MP/1080p camera. The screen type, unfortunately, is still unknown. It will be available in black and white for $199.99 and that will make it a very competitive phone.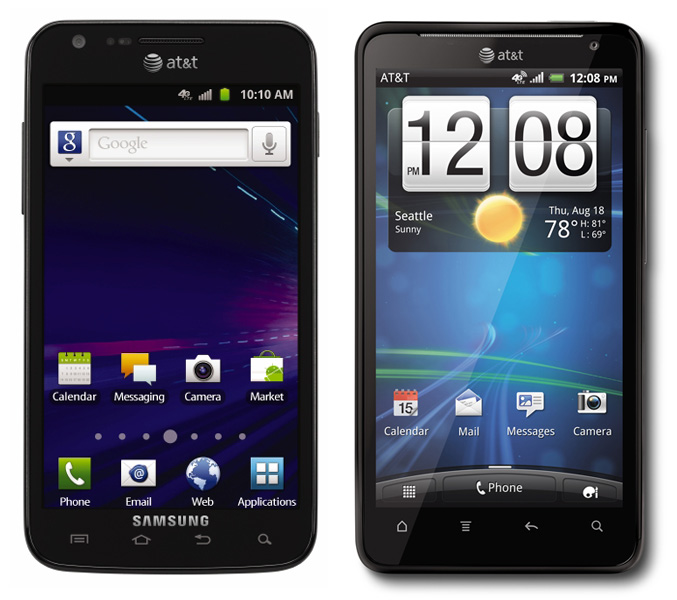 Just like the HTC Vivid the Galaxy S II Skyrocket brings the LTE baseband and a larger 4.5″ display with WVGA resolution and features 1.5 GHz dual-core processor. The phone also sports Super AMOLED Plus capable of bringing delightful and rich colors and excellent viewing angles from Samsung's other AMOLED displays. On the outside the phone is similar to other AT&T SGSII variants. On-board memory is 16 GB with the option of expanding it via microSD to 32 GB. The features are complemented by a 8MP/1080p camera. The phone will go on sale this Sunday, priced at $249.99 with a new, two-year agreement.
The phones will be launched November 6, 2011 and will be available in four new markets – Boston, Washington, D.C., Baltimore and Athens, Georgia in addition to the five initial markets – Atlanta, Chicago, Dallas-Fort Worth, Houston and San Antonio, USA. These phones will be able to join the 4G modems that are already available.
Source: AT&T