Research In Motion (RIM)  today introduced the BlackBerry® Bold™ 9650 smartphone – the latest addition to the BlackBerry Bold portfolio of premium smartphones. Sophisticated, powerful and feature-rich, the BlackBerry Bold 9650 is a global smartphone for CDMA customers who want to stay connected, productive and entertained.
"The new BlackBerry Bold 9650 is an extraordinary smartphone that we think customers will love," said Mike Lazaridis, President and Co-CEO at Research In Motion. "Whether at work or at play, the new BlackBerry Bold 9650 offers a truly impressive communications, multimedia and connectivity experience.
The BlackBerry Bold 9650 smartphone supports 3G (EVDO) networks in North America and (HSPA/UMTS) abroad and has a full-QWERTY keyboard, optical trackpad and built-in Wi-Fi® (802.11 b/g), which makes it possible to talk on the phone while browsing the web or sending and receiving email. The BlackBerry Bold 9650 also includes 512 MB Flash memory and an expandable memory card slot that supports up to 32 GB microSDHC cards, with a 2 GB card included.
The BlackBerry Bold 9650 fuses form and function in a striking design and, in addition to providing premium phone and multimedia features, it of course delivers the industry's leading mobile solution for email, messaging (IM, SMS, MMS) and social networking.
Other key features of the BlackBerry Bold 9650 smartphone include:
Stylish design (4.4" x 2.4" x .56" and 4.8 oz.) with glossy black finish and chrome highlights
Large (2.44") high-resolution display (480 x 360 resolution at 245 ppi), able to display pictures, videos and web pages with impressive contrast and detail
3.2 MP camera with flash, variable zoom, image stabilization, autofocus and video recording
Advanced media player for videos, pictures and music, a 3.5 mm stereo headset jack and support for the Bluetooth® Stereo Audio Profile (A2DP/AVCRP)
BlackBerry® Media Sync for easily syncing photos as well as iTunes® and Windows Media® Player music with the smartphone*
Easy mobile access to Facebook®, MySpace and Flickr®, as well as popular instant messaging services including BlackBerry® Messenger
Support for BlackBerry App World™, featuring a broad and growing catalog of third-party mobile applications developed specifically for BlackBerry smartphones
Full HTML web browser, streaming audio and video via RTSP
Built-in GPS with support for geotagging, BlackBerry® Maps and other mapping applications
Premium phone features including voice activated dialing, speakerphone, and Bluetooth (2.1).
Support for high-speed EV-DO Rev. A networks in North America, as well as UMTS/HSPA (2100Mhz) and quad-band EDGE/GPRS/GSM networks abroad
Removable and rechargeable 1400 mAhr battery for 5 hours of CDMA talk time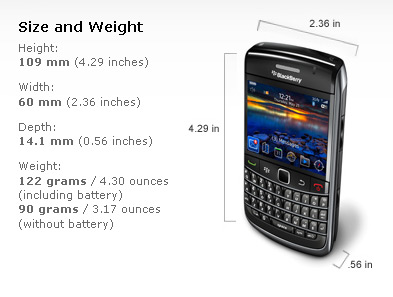 The BlackBerry Bold 9650 smartphone is expected to be available from carriers in the United States beginning in May.For more information visit www.blackberry.com/bold
Source: RIM