Designed to meet both business and personal needs, this is the latest android based smartphone from Verizon and Motorola. The new candy-bar phone feature portrait oriented QWERTY keyboard, comes pre-loaded with Android 2.2 and Quickoffice Mobile Suite and is also a global-ready, allowing customers to enjoy wireless voice service in more than 220 countries.
The business handset has measures of  119 x 60 x 11.7 mma and weights 134 g, it is powered by 1GHz OMAP 3620 processor, has a 3.1-inch capacitive touchscreen (320 x 480), 512 MB RAM, 2 GB internal memory, SD card slot and 5-megapixel camera with auto focus and dual LED flash. Connectivity specs include HSDPA, HSUPA, Wi-Fi 802.11 b/g/n,  DLNA, microUSB v2.0 and 3.5 mm audio jack.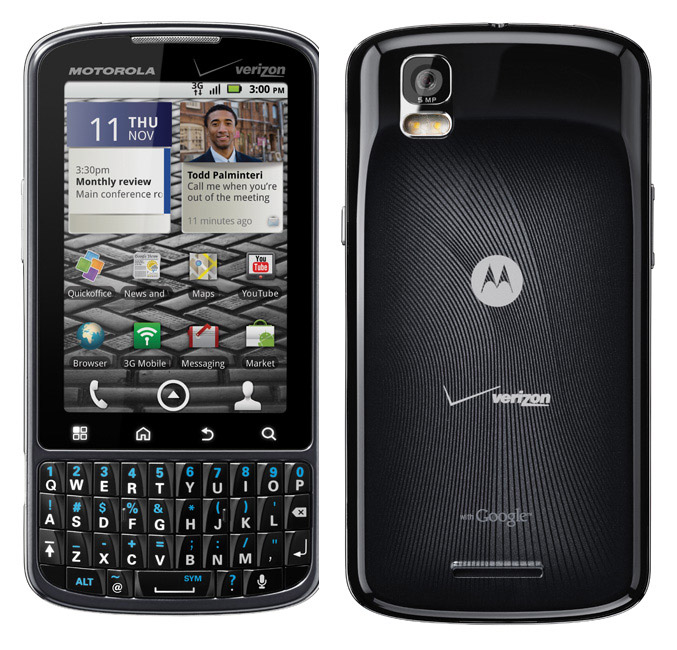 The optimized for business use of course includes corporate connectivity and security, full push corporate e-mail with corporate level security, unified calendar with additional work features multi-headed VPN integration and complex password support.
"The DROID PRO is an advanced business-ready solution that provides users with the full smartphone experience, redefined by delivering the power of a DROID," said Sanjay Jha, chief executive officer of Motorola Mobility. "The DROID PRO consolidates users' work and personal needs. This is just another reason the DROID PRO is setting a new standard for enterprise, allowing users to enjoy all the benefits of a smartphone with full push delivery of corporate e-mail and corporate level security."
Features and specifications:
Support for both Exchange e-mail and Gmail for business
Corporate directory look-up, unified calendar for Enterprise and sync with Google Calendar
PC-like browsing with Adobe Flash Player 10.1 on a full, multi-touch, 3.1-inch brilliant display built on Android 2.2
View, edit and share documents, including Microsoft Excel spreadsheets, PowerPoint presentations and Word documents
Built-in security features, including AuthenTec IPSec multi-headed VPN integration, remote wipe of device and SD card, and complex password support. Device and SD card encryption will be available in early 2011
3G Mobile HotSpot capabilities – Allows customers to connect up to five other Wi-Fi®-enabled devices and laptops
Live widgets that stream e-mail messages to the home screen; customers can filter the widgets to separate work and home e-mail
3G diversity antennae provides customers with enhanced data speeds and range
Wi-Fi-enabled DNLA connectivity
Android Market™ – Provides customers with access to more than 80,000 applications
My Verizon and Backup Assistant support – Allows customers to manage their wireless accounts or their contacts from their phones
Motorola Droid Pro will be available in the first week of November from Verizon Wireless