Join me my son, and we will rule the galaxy as Father and…
Verizon Wireless has announced that Motorola's Limited Edition DROID R2-D2 will be available beginning Sept. 30. The design is like the Astromech Droid from the Star Wars Saga and will be packaged in a custom box resembling carbonite. Of course this is not all, there is also a Star Wars media dock, wired stereo headset and some exclusive content:
R2-D2 notification sounds and ringtones
Four live wallpapers
R2-D2 Clock Widget
"The Best of R2-D2" video with the original Cantina music
Exclusive Binoculars App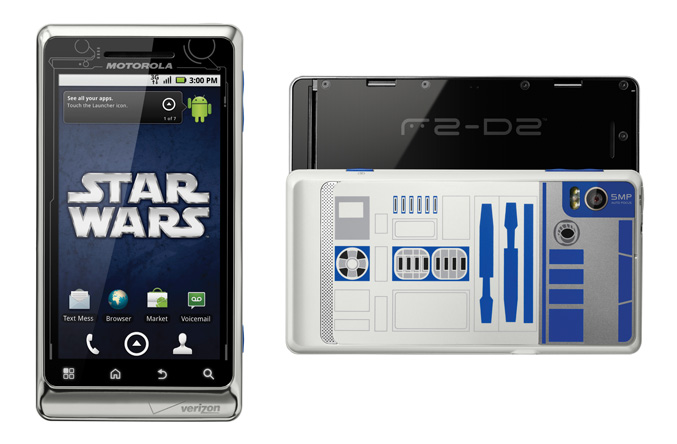 Verizon also note, that customers with Android 2.1 (and higher) devices will soon be able to get the Empire Strikes Back app from Android Market, allowing to browse, preview and download Star Wars content related to Star Wars: Episode V The Empire Strikes Back for a one-time charge of $2.99.
This mobile app will have the following features and content:
Bounty Hunt Visual ID: Find and capture images around the Star Wars universe to unlock hidden content
Sound and Photo Gallery
Live Wallpapers:

Blast the Probe Droid
Luke Balancing Yoda
Navigating the Asteroid Field
Watch Bespin's Cloud City

Trivia Challenge: Answer trivia questions about The Empire Strikes Back
Widgets
To be a true Jedi Master you'll need to pay $249 (after a $100 mail-in rebate) with a new two-year customer agreement.