Pantech Wireless, Inc., – the U.S.-based subsidiary of Pantech Group, one of Korea's largest mobile phone manufacturers – announced  that "Link" is available to AT&T customers in stores and online on April 18. Link is Pantech's latest addition to AT&T's portfolio of quick messaging phones (QMPs), a fast-growing category of phones popular for full keyboards, advanced services and full browsers. By featuring the full keyboard under an ultra thin (under 10 mm) frame, and a suite of AT&T services including AT&T Social Net and the new AT&T Mobile Share, Link proves that it is the slimmest way to stay connected to your social life.
"The energy at Pantech is high," said Dave Ronis, Pantech's newly appointed CMO. "We really enjoy working with AT&T customers to make sure that all of our handsets meet their ever-expanding needs. Link is one of the slimmest phones on the market, not to mention packed with all of the social media and picture and video-sharing features our messaging phone users want."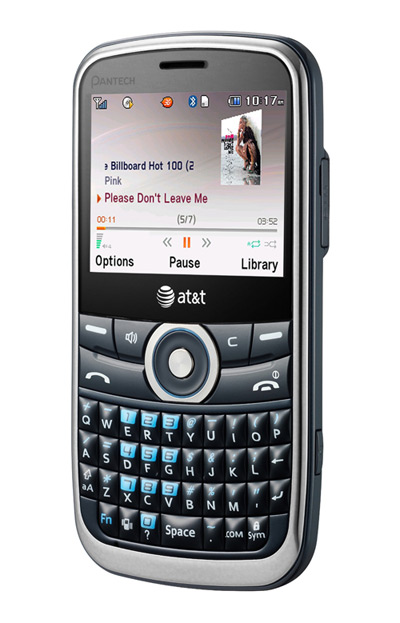 Link's specialty is messaging, and just like the name implies, its contemporary design is ideal for keeping people connected to the most important parts of their personal life. An extra-large LCD screen complements Link's slim casing, and a full keyboard helps kick out messages in a snap – sending full texts, multimedia messages, email, and instant messages. Link brings you into contact with your online world at 3G speeds, allowing for profiles to be effortlessly updated with pictures and videos, and Web pages to be swiftly surfed. Making and managing playlists of favorite musical tracks is easy, and Link keeps you looking stylish in the process. Black and blue accenting combines with a high gloss finish to make the most of its sleek shape.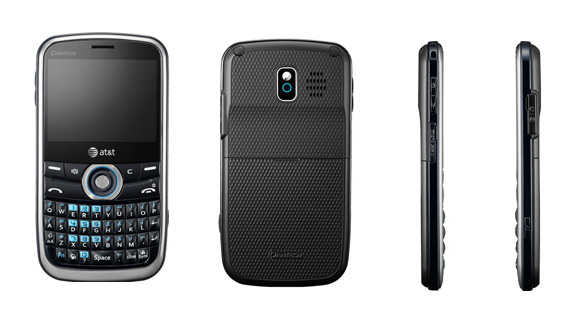 Link incorporates key features that help do it all:
Ultra Thin Design – Measuring under 10mm, Link slides discreetly into the pocket of a favorite pair of jeans or summer button-down.
Quick Access to Messages – A full QWERTY keyboard helps send a wide range of messages in seconds – stay in touch with friends via text, email, picture mail, video messages, email, and IMs.
Easy Contact Management – AT&T Address Book is a service that allows users to manage and backup contacts via the Web at no additional cost.
Web and Social Media @ 3G – Browse the Web at the speed of 3G, while using AT&T Mobile Share to view and upload photos to any number of social networking sites in one place.
Music: Manage it – Use the onboard song equalizer to adjust the levels of music files, make and manage playlists using Napster® and eMusic® through AT&T Music.
Video and Camera – An integrated 1.3MP CMoS camera incorporates a range of customizable resolutions and picture taking controls.
Quick messaging phone users more frequently look to their mobile phone for advanced services and apps and Link has some of the best. AT&T Social Net can be used to quickly view and update online profiles with one hub. AT&T Mobile Share makes it easy to store, view, and share pictures and video. Whenever on the move, running errands or hanging with friends, AT&T Navigator is there to guide you with turn-by-turn directions.
Link is available for a limited time for $9.99 with a rebate and a two-year contract at AT&T stores and online at www.wireless.att.com. A voice plan and a minimum $20 per month messaging or messaging and data plan are required.
Tech Specs
Frequency: GPRS/EDGE Quad-Band, UMTS/HSDPA Dual-Band
Dimensions: 4.5″ (H) x 2.4″ (W) x 0.39″ (D)
Weight: 3.2 oz. (with standard battery)
Display: 2.4″ – 262K TFT LCD, 320 x 240 Resolution
Battery Type: Standard Lithium-Ion (Li-Ion)
Talk Time: Up to 3 Hours
Standby Time: Up to 10 Days
Source: Pantech