Samsung has launched a new entry-level class Bada smartphone that targets women.
The novelty is called S5380 Wave Y Le-Fleur Edition and strongly resembles its parent – the S5380. As such it comes with a 3.2-inch display with HVGA resolution, TouchWiz interface, HDSPA capabilities, Wi-Fi, GPS, Bluetooth 3.0, 2 MP camera – all powered by a 832 MHz processor.
What makes this smartphone different is the body styling – the S5380 Wave Y Le-Fleur Edition comes with a combination of pink and black colors plus a flower motive, enough to make the Samsung Wave Y the perfect phone for fashion lovers.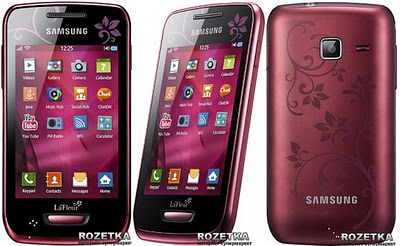 The new phone is currently available in the Ukraine for a price of around 165 USD with market availability coming soon to other countries. Who knows – maybe the Samsung S5380 Wave Y Le-Fleur Edition will turn out to be a great Valentine's Day present?
Source: Techcinema