The Galaxy S III will be available soon in four new colors, Samsung has announced.
Following its "Designed for humans, inspired by nature" slogan Samsung has turned to nature to provide the four new colors and this is why the Samsung Galaxy S III will come in Amber Brown, Garnet Red, Sapphire Black, and Titanium Grey colors but not all of them will be available everywhere. For example in the USA AT&T will have an exclusive on the Garnet Red color.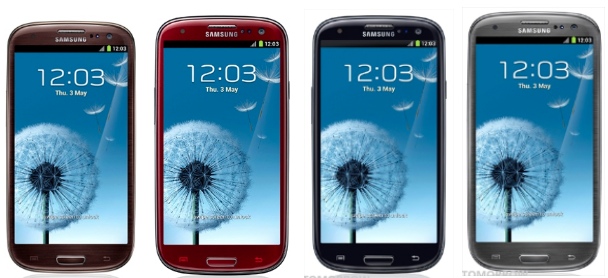 "Every inch of the Samsung Galaxy S III has been created to reflect the natural elements that inspired its ergonomic design, from the softly shaped curvature to the minimized bezel. By expanding the color range of the Galaxy S III we are continuing to evolve the Minimal Organic design theme of the handset. The color options we have added evoke the phone's emotional and natural aspects in a very simple but effective way.", said Minhyouk Lee, Samsung's VP and lead designer of the Galaxy S III.
The new colors will be on the market soon.
Source: Mobileburn.com