Definitive Technology announced that the Mythos XTR-50 has started shipping to US retailers. Definitive retailers have eagerly awaited delivery of the 1.5″ deep high performance speaker since its first showing at CEDIA 2009 as it is an ideal on-wall component speaker solution for their customers with ultra-slim TVs.
The Mythos XTR®-50 is an ultra-thin (1.5″ deep) on-wall, on-shelf loudspeaker that delivers a level of high performance previously thought impossible in shallow enclosure speakers. Definitive developed the Mythos XTR-50 to look perfect on a wall or shelf next to an ultra-thin TV. It combines the thin profile of "panel" speakers with the high definition detail, bass, and dynamic range performance of a high quality dynamic speaker.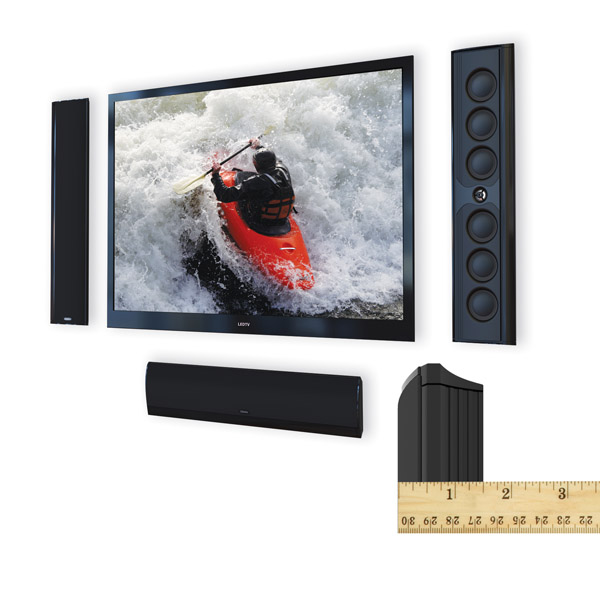 The XTR-50 was named an International CES Innovations 2010 Design and Engineering Awards Honoree in the High Performance Audio category.
"Definitive was the first US speaker brand to develop slim stylish speakers that complemented plasma and LCD TVs when they first hit the market" said Definitive's Executive VP Dave Peet. "The Mythos series models were a runaway success and have been widely imitated. Judging by the flood of dealer orders it looks like we've hit the bull's eye again with the XTR-50."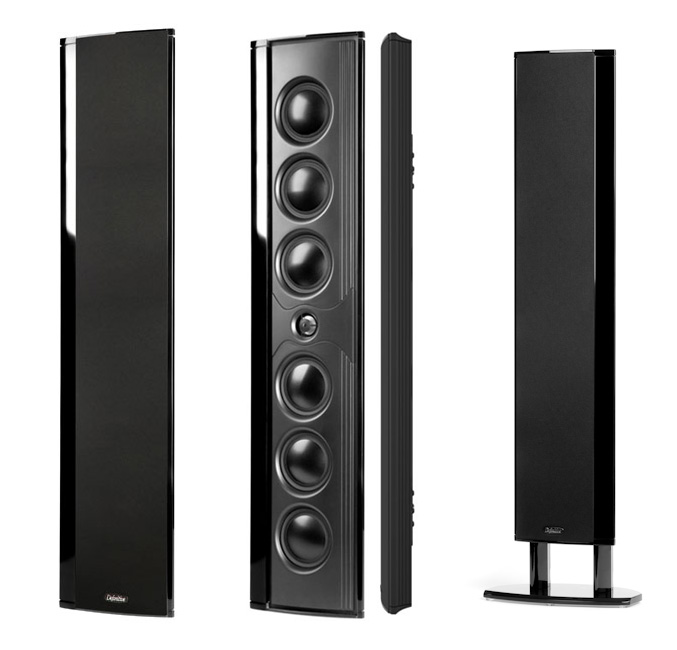 The Mythos® XTR®-50 comes supplied with a wall mounting bracket that allows either vertical or horizontal orientation with a total installed on-wall depth of only 1.6 inches (40mm) as well as smoked glass stands for vertical table-top use and horizontal shelf placement. Whether mounted on-wall or on shelf, used as Left and Right, Center or Surround channel speakers the Mythos XTR-50 looks terrific and sounds astonishing.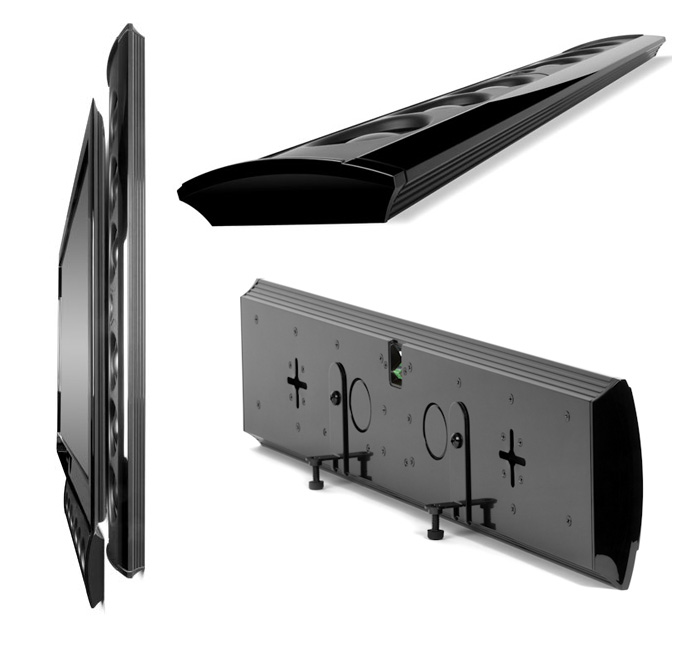 The Mythos XTR features a hand polished aircraft grade Aluminum extruded enclosure that measures 27″ H x 6″ W x 1.5″ D (68.6cm x 15.3cm x 3.8cm), the perfect size for 46″ – 55″ TVs. The Mythos XTR-50 has an MSRP of $699 and is now shipping. Three additional Mythos XTR speakers are planned for delivery later in 2010.
Specification:
Dimensions (mounted on wall without bracket) :27″ H x 6″ W x 1-1/2″ D (68.6cm x 15.2cm x 38mm)
Dimensions (mounted on wall with bracket) :27″ H x 6″ W x 1-9/16″ D (68.6cm x 15.2cm x 40mm)
Dimensions (on table stand) :30″ H (76.2cm)
Table-stand base dimensions :8-11/16″ W x 4-3/4″ D (222mm x 136mm)
Driver complement :2 each 3-1/2″ (90mm) XTDD anodized Aluminum dome mid/bass drivers pressure-coupled to 4 each 3-1/2″ (90mm) dome low-bass radiators, 1 each 1″ (25mm) Pure Aluminum Dome Tweeter
Frequency response (overall on wall) :92Hz – 30kHz
Sensitivity :92dB
Impedance :8 Ohms nominal
Recommended amplifier power :20 – 100 Watts per channel
Enclosure :Extruded Aluminum
Product weight (without table stand) :5.1 lbs. (2.3kg)
Supplied accessories :Smoked glass base table stand, wall mount bracket, adjustable support foot for horizontal shelf placement, magnetic logos
Packaging :One to a carton
Available finishes :High gloss black
Source: Definitive Technology