Genius TVGo C03 HDTV USB Digital TV Box

With Genius TVGo C03 you can watch Analog and Digital TV programs on your desktop or Notebook using either the TV cable or the portable antenna.
TVGo C03 has enhanced video decoding technology and supports digital TV programs in H.264 and MPEG-2 format. The unique bundled software includes schedule recording and real-time recording in popular video format. (It also offers advanced real-time recording format for an iPod or PSP so that you can watch recorded TV programs on the go.) In addition, it includes time-shifting and schedule recording so you won't miss your favorite TV show. The TVGo C03 supports Windows Vista and XP SP2.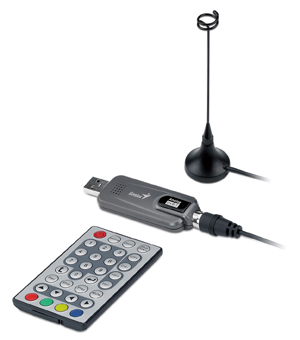 Key features:
Watch worldwide analog and digital(DVB-T) TV system
Enhanced TV recording functions with multi-format
-For analog TV: MPEG 1/2/4
-For digital TV: MPEG 1/2
-(Analog TV only)For iPod and PSP (MP4/AVC)
Continuous image capturing from TV programs
Time-shifting/ EPG/ Subtitle
4:3 and 16:9 display mode adjustable

TVGo C03 Specification
Interface
USB 2.0
Digital tuner (DVB-T)
-Receiving frequency: 174MHz to 863.25MHz
-Bandwidth: 6/7/8 MHz auto select
Analog tuner
-Universal TV tuner (NTSC/PAL/SECAM)
-Analog TV INPUT: RF connector
-Auto Scan up to 125 TV Channels
STILL IMAGE CAPTURE
JPEG/BMP
Video recording format
MPEG 1/2/4
OS
Windows XP SP2/ XP MCE/ Vista

Source: Genius