MSI, the world's leading mainboard manufacturer, unveils its AMD AM3 mainboard 790FX-GD70 and 790GX-G65. MSI AM3 mainboard fully supports AMD latest 45nm Phenom™ II processor and DDR3 memory.
MSI Unveils the AM3 790GX-GD70 & 790GX-G65 Gaming Series Mainboards  Comes with OC Dial & MAX FSB Advanced Overclocking Technology
In addition, it comes with the AM3 processor which is optimized for the "second-generation DrMOS technology" and "APS (Active Phase Switching) technology", both in high and low loading, MSI AM3 series mainboard offers the highest power conversion efficiency and effectively reduces the heat. Not only that, Gaming series mainboard even comes with OC Dial and MAX FSB advanced overclocking technologies, as well as M-Flash BIOS update mechanism protection. OC Dial and MAX FSB overclocking enable users to overclock easily and become an expert in a short period of time; M-Flash enables user to load the BIOS files from USB drive to boot up. In addition, the full range products feature full support for multimedia applications, Blu-ray high-definition hardware audio, eSATA/USB combo port, and complete display output interface to provide Full HD and high-performance 3D display capabilities. This mainboard is simply one of the best solutions for gamers and multimedia users.
5-phase DrMOS Power Design and APS(Active Phase Switching)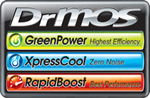 MSI DrMOS and APS technology had been proved as one of the industry's first energy-saving technologies by Tom's Hardware. Therefore, MSI 790GX-GD70 utilized the optimized AM3 processor with true 5-phase DrMOS Power Design. That can support the high-performance 140W quad-core processors, and will enhance the power conversion efficiency up to 93.6%. MSI's unique power design not only improves the power quality and provides a more stable power, but also further reduces the heat.
MSI has implements the exclusive APS (Active Phase Switching) technology further in the processor, chipset and memory power design. MSI APS technology, a BIOS-level power-saving technology, is the key features to reduce the waste of the mainboard power supply. When the system is in high-load, APS technology will open the whole power phase to supply the adequate power; When the system is in low-load, the APS technology will close the redundant power supply phase to reduce the power consumption. Recently Tom's Hardware proved that both DrMOS and APS really save a lot of power, it is best solution in the world.
OC Dial & Max FSB advanced overclocking technology. M-Flash provides the complete BIOS protection and update features.


MSI 790FX-GD70 mainboards fully support OC Dial and MAX FSB advanced overclocking technology. Simply rotate the OC Dial knob to enable user to check the FSB clock state immediately under BIOS or operation system. Both of 790FX-GD70 and 790GX-G65 are equipped MAX FSB overclocking technology provides entry-user the most instant overclocking way. The mainboards will according to the hardware and provide the highest FSB clock to reach the gamers overclocking target. When user needs to update the BIOS, they only need to save the updated BIOS files in the USB drive. The M-Flash feature in the BIOS can easily update the BIOS. In addition, it also offers a complete BIOS protection. When the BIOS damaged, users can simply load the BIOS file from the USB drive and boot to repair the BIOS.
Utilized the Blu-ray high-definition audio, eSATA/USB combo port
MSI 790FX-GD70 and 790GX-G65 mainboard provides the Blu-ray high-Definition audio; completely provide a Blu-ray audio output, supports 7.1-channel stereo surround sound. Both in game or high-definition video, it provide you the more pure sound quality. The eSATA/USB combo port is a combination of eSATA and USB hardware features. The convenience design allows users to have greater flexibility in eSATA / USB application.
Supporting ATI CrossFire™ and Hybrid CrossFireX™
MSI 790FX-GD70 mainboard is the best choice for gamers. It also supports 4 xPCI-E 2.0 x16 cards, enabling 4 high-end graphics card to work at the same time. ATI CrossFire™ technology enhances 3D game performance, making the MSI 790FX-GD70 is the best choice of gaming enthusiasts.
MSI 790GX-G65 mainboard utilizes AMD 790GX integrated chipset (IGP), built-in Radeon™ HD3300 GPU, offers powerful 3D display computing capability that can support the DirectX® 10, DVI, HDMI and D-Sub.

For better display performance, 790GX-G65 is equipped with 1Gbit DDR3 1333MHz SidePort memory. Users can buy another independent MSI R3400 series graphics card; they simply need to open the Hybrid CrossFireX™ synergy function to enjoy improved display performance.
790FX-GD70

• AMD 790FX/SB750 Chipset
• Supports AMD Socket AM3 (941-pin) Phenom™ II / Athlon™ processor
• 4 x PCI-E x16 slots support ATI CrossFireX™ Technology
• Supports four dual-channel DDR3 1333 memory slots up to 16GB
• Utilizes DrMOS chipset
• APS(Active Phase Switching)
• Dual 10/100/1000 Mb/s LAN Ports
• High-quality 7.1-channel audio
• 8 SATAII and 1 eSATA hard disk interface, support RAID 0/1/0+1/5
• 2 PCI-E x1, 2 PCI slots
• 12 x USB 2.0, 1 x IEEE1394a
790GX-G65
• AMD 790GX/SB750 Chipset
• Supports AMD Socket AM3 (941-pin) Phenom™ II / Athlon™ processor
• 2 x PCI-E x16 slots support ATI CrossFireX™ / Hybrid CrossFireX™ Technology
• Supports four dual-channel DDR3 1333 memory slots up to 16GB
• APS(Active Phase Switching)
• Built-in 1Gbit(128MB) IGP display dedicated memory
• 10/100/1000 Mb/s LAN Port
• High-quality 7.1-channel audio
• 5 SATAII and 1 eSATA hard disk interface, support RAID 0/1/0+1/5
• 2 PCI-E x1, 2 PCI slots
• 12 x USB 2.0, 1 x IEEE1394a (optional)