Onei Solutions 6.1 Home Theatre System/Stand

This TV stand look won't appeal to everyone, but could be the right pick for you if need fully integrated home cinema sound system.
Featuring built-in amplifier, six 15W speakers and a bright, VFD display, this modern sound stand is designed to accommodate LCD or Plasma TVs up to 50″ (100kg). There is an additional shelf for DVD players and digital boxes and will cost you £385.99.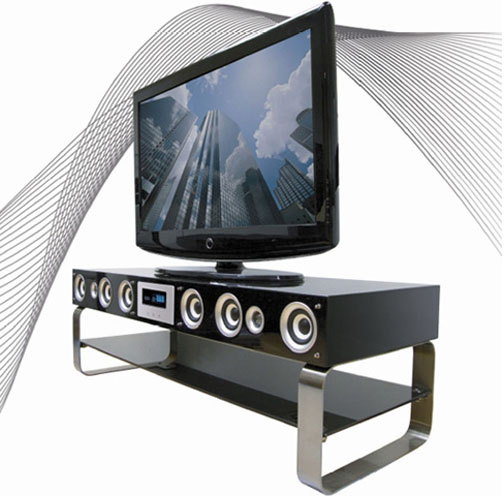 Onei Solutions Universal 6.1 Home Cinema Speaker Stand for up to 50″ Screens
High gloss piano black PE finish with brushed chrome legs
Full integrated Home cinema sound system
Black glass shelf toughened to BS6206A
Pop off front speaker covers
6.1 Home cinema system
Front channel (FL/ FR) output power : 15w x 2
Centre ( c ) output power : 15w x 2
Satellite Channels (SL/SR) output power : 15w x 2
Connections:
HDMI input x 2,
HDMI Output x 1
Optical Digital Audio Input x 2
Twin Phono Stereo Input x 2
External 6.1 Cinema Inputs x 1
Additional Subwoofer Output x1
Coaxial Output x 1
Built in VFD Display Screen
Built in Amplifier
Full Functional Remote Control
Source: Techfresh.net