BenQ announced today the expansion of its HD projector lineup with the introduction of three new models: the W6000 (1080p), W1000 (1080p), and W600 (720p), targeting tech-savvy home theater enthusiasts and content-conscious home entertainment fans.
Engineered with Texas Instruments' DLP® technology, all three front-projection one-chip models deliver outstanding HD cinematic enjoyment via advanced BrilliantColor™ processing, high brightness, and high contrast ratios. High-end specifications – ranging from Hollywood Quality Video (HQV™) processing, advanced lamp technologies, and customizable color preference to dual HDMI, super long lamp life, and Panamorph® compatibility – are selectively incorporated into each model, distinguishing the W6000 as a well-equipped contender in the luxury 1080p home cinema segment; the W1000 as a versatile home entertainment 1080p projector; and the W600 as the perfect and fun 720p multimedia household projector. Whether your home boasts a dedicated cinema setup complete with stadium seating and screen curtains, or just a comfy couch in the family room, BenQ's new HD home projectors effortlessly and affordably bring big-screen thrill into home life.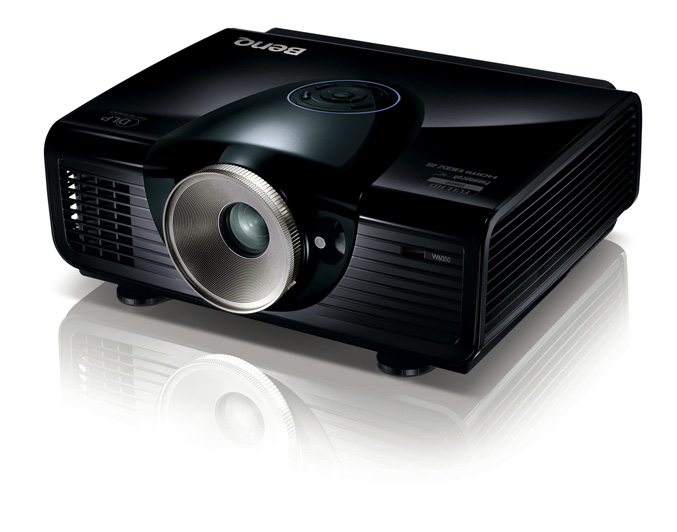 W6000: Ultra-Bright, Ultra-Contrast 1080p Luxury
The W6000 is home projection at its best, incorporating top technologies for luxury, cinema-class entertainment at home. It rivals high-priced models in offering full 1080p HD video at 24 frames per second – the same format used for professional movie filming and editing, as well as in Blu-ray DVD players. Movies are always pristine and immaculate without the degradation that inevitably occurs during the conversion process. Likewise, sophisticated HQV processing not only renders HD video sources in true 1080p high definition, but enhances standard definition content to new levels of clarity and vibrancy. Lower-resolution video sources such as 480i, whether analog or digital, are automatically converted to produce full HD-like image quality. The combined expertise of BenQ's projector know-how, Texas Instruments' DynamicBlack™ and Philip's VIDI lamp technology delivers an astounding 50,000:1 contrast ratio for superbly rendered image definition, even in the darkest scenes, and a brilliant 2,500AL to counter any ambient room lighting. An arsenal of advancements further back the W6000's breathtaking, bigger-than-life color reproduction: true 10-bit processing, BrilliantColor and a native Rec.709 color gamut, plus custom color preference via Independent Color Control. Challenging home installations are made easy and effortless with horizontal+vertical lens shift, 1.5:1 zoom ratio, dual HDMI inputs, and Imaging Science Foundation Certified Calibration Configuration (ISFccc) for optimized performance customized to the consumer's home environment. And for true commercial theater replication, the W6000 can display in 2.35:1 aspect ratio using an optional Panamorph Lens.
W1000: FULL 1080P GLAMOUR FOR LESS
The W1000 finds its unique niche as a 1080p Full HD home cinema projector equipped with solid performance essentials. Like the W6000, it boasts a 6-segment advanced color wheel and BrilliantColor processing for exceptionally rich, true-to-source tones.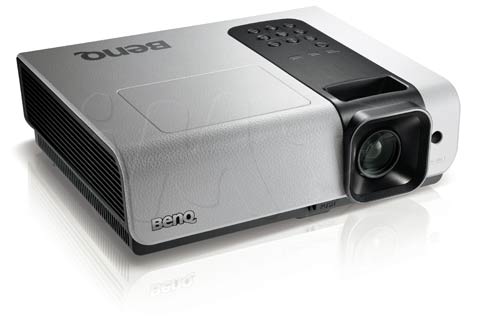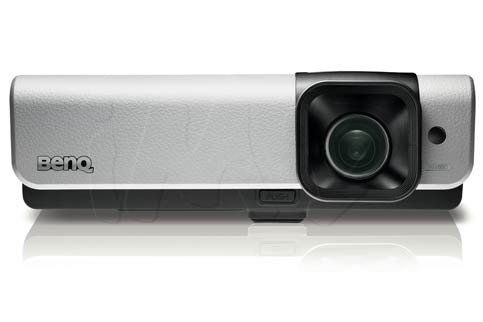 Exclusive 3D Color Management and OSRAM's UNISHAPE™ technology differentiate the W1000's mastery of color: the former allows users 100% color customization without compromise; the latter amps image brightness up to 40% by varying the intensity of the projector lamp in synchronization with the color wheel. The result is movie magic with boldly rendered hues and never-before-noticed dark detail definition. A high 2,700:1 contrast ratio harnesses the 1,800AL for deep, rich image quality, even with ambient room lighting. Top access lamp door and dual HDMI inputs afford easy installation and hookup. A generous 4,000-hour eco lamp life is icing on consumer budgets.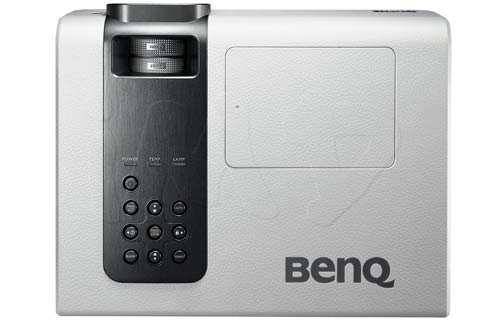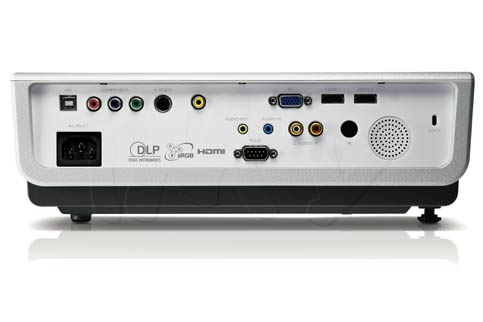 W600: Sensible 720p Home Entertainer
BenQ's W600 is the sensible solution for huge-screen enjoyment of all home entertainment devices. Gaming, videos, pictures, TV, and more are easily connected via dual HDCP-compliant HDMI ports as well as RGB, Composite Video, S-Video, and Component Video interfaces. Graphic-intensive games and complex movie scenes are immaculately rendered in 720p high-definition, backed by an advanced 6-segment color wheel, BrilliantColor, UNISHAPETM, and 3D Color Management. BrilliantColor affords up to a 50% increase in brightness, enhances mid-tone hues, and expands the color palette beyond RGB (red/green/blue) to also include yellow, white, magenta, and cyan for more realistic and lifelike color reproduction. 3D Color Management enables users to fine-tune hue, saturation, and gain of individual colors so that specific applications are optimized to user preference. Flawless color accuracy, deeper blacks, brighter whites, and sharp detail definition are additionally supported by 2,000AL brilliance and a 3,000:1 high contrast ratio. A class-leading 4,000-hour eco lamp life and sub-1W standby mode further solidify the W600 as a sensible choice for affordable, fun home entertainment.
The W6000 will be available worldwide at the end of July, followed by the September global release of the W1000 and W600. For more information, please visit BenQ.com
Source: BenQ