NEC America today debuts its new PA Series projectors and introduces four new models –  the PA600X, PA550W, PA500U and PA500X, which are appropriate for large classrooms and corporate conference rooms.
The models feature new chassis, improved center lens design and have received HDMI and DisplayPort connectivity. They offer brightness level ranging from 5000 to 6000 lumens, up to 4000 hours of lamp and filter life, and allows up to four projectors to be stacked vertically or horizontally to boost the image brightness up to 24,000 lumens. Other features include ECO Mode technology that NEC claims extends each projector's lamp life by up to 50%. The PA Series are also equipped with USB ports, integrated RJ45, Wireless LAN and 10W speaker.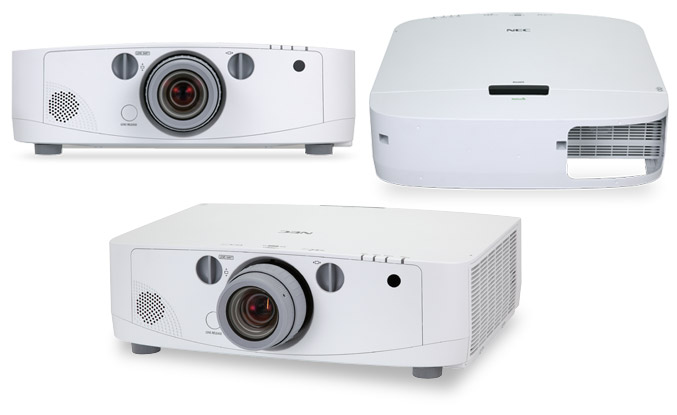 The PA600X, PA550W, PA500U and PA500X features:
Up to 6000 lumens in XGA, WXGA and WUXGA native resolutions
Lamp life up to 4000 hours with ECO Mode
Connectivity includes HDMI with HDCP, DisplayPort, dual computer and 5BNC
Stacking capability (up to 4 projectors)
HQV processing
Windows Network Projector Function directly connects to networked projectors without the need for additional proprietary software
Windows Remote Desktop Function allows the control of the projector with a keyboard and mouse through the USB input
Windows Network Drive and Media Connection functions display multimedia files (.jpeg, .bmp, .png, .mpeg2 or .wmv9)
Complete line of five bayonet-style lenses
Image Express Lite enables wired/wireless transmission of an image to the projector without the need for external components
Image Express 2.0 enables image transmission in real time over the network to a single projector or multiple projectors simultaneously
3D Reform squares the image by adjusting horizontally, vertically or diagonally when the projector is placed at an off-set angle
Cornerstone correction helps display the image properly when the projector is set up at an angle to the screen
Geometric correction allows the projector to display square-looking images on cylindrical, spherical or cornered screens
Horizontal and vertical lens shift
Edge Blending technology creates panoramic images with multiple projectors
DICOM Simulation
Cabinet control lock
Password protection
Email notifications to inform the system administrator when the projector's lamp approaches the end of its useful life
The PA600X, PA550W, PA500U and PA500X projectors are backed by three year warranty and will be available in March 2011 for $3,999, $3,399, $5,499 and $3,199 respectively.
Source: NEC