Today Sony unveils a key addition to its BRAVIATM television range, the Z5500, which incorporates the latest in cutting edge TV technology.
Equipped with Sony's pioneering Motionflow 200Hz and Image Blur Reduction technology, the Z5500 produces not only incredibly smooth motion and sharp fast-moving images, but also powerful sound when combined with the new HT-CT500 Home Theatre system. This model was specifically designed to perfectly complement the BRAVIATM Z5500, providing a truly immersive Full HD home entertainment experience.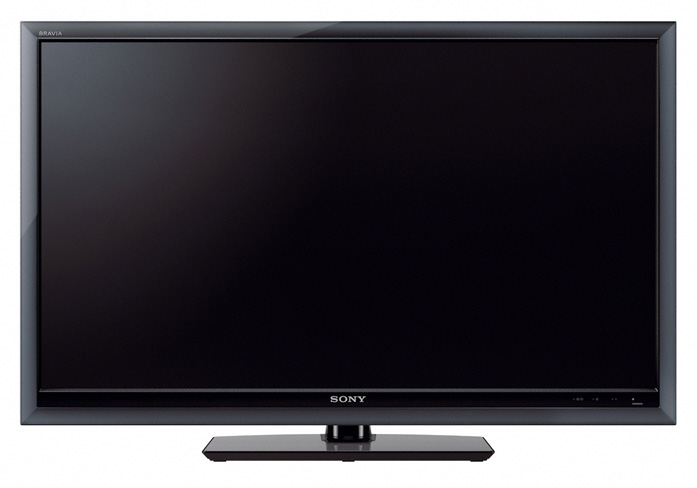 Sports and fast-moving action look better than ever. Using sophisticated algorithms, Motionflow 200Hz calculates three additional frames for every original, upping the frame rate from 50 to 200 per second. The picture is further enhanced by Image Blur Reduction, which 'cleans' the original frames before new frame insertion for even sharper images with reduced motion blur. The result is the smoothest and clearest motion reproduction ever achieved by BRAVIATM TVs.
Taking Sony's distinctive 'draw the LINE' design concept – which focuses on enhancing your overall viewing experience without distracting you from what is on screen – one step further, the BRAVIATM Z5500 frame is as minimalistic as possible, removing any unnecessary excess and keeping only the essential lines of the frame. The result is a television that not only looks effortlessly elegant, but is also incredibly stylish, providing the perfect gateway to lose yourself in the stunningly realistic Full HD picture.
To complete the ultimate visual package, the BRAVIATM Z5500 features BRAVIA EngineTM 3, the latest generation of this unique Sony HD picture enhancement technology. It intelligently analyses and optimises video signals from any HD or SD source, enhancing picture details, contrast and colour reproduction for breathtakingly natural results. BRAVIA EngineTM 3 is complemented by Live Colour Creation; this additional processing technology ensures the Z5500 is able to display incredibly vivid, lifelike colours, making you feel you are experiencing that movie or big match firsthand.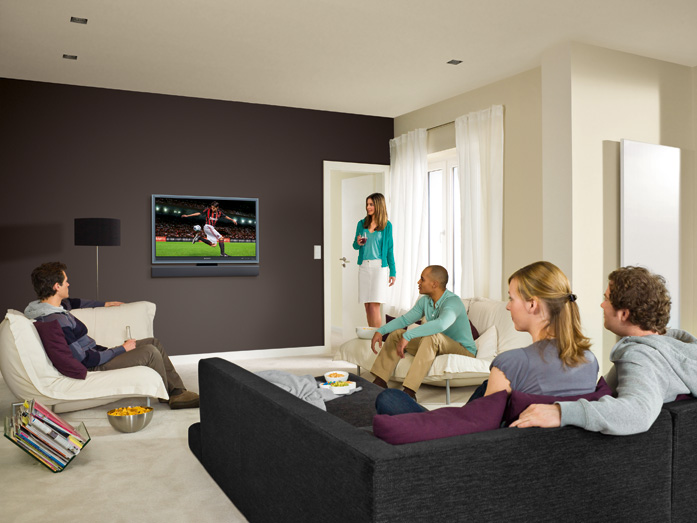 "The unique blend of advanced technology and leading design showcased in the BRAVIATM Z5500 means that you can enjoy crystal-clear, amazingly smooth fast-moving images with Motionflow 200Hz, along with atmospheric sound from the HT-CT500 home theatre speaker", says Hiroshi Sakamoto, Vice President, TV Marketing Europe. "We design our TVs to ensure that they contain the latest features and advanced technology, bringing the real world to your living room for a truly realistic and immersive viewing experience, without any compromise to look and feel."
Available in three screen sizes (40-inch, 46-inch and 52-inch), the Z5500 is also DLNATM certified, allowing it to be seamlessly networked via the built-in Ethernet port with other DLNATM enabled devices within the home, even if they're not in the same room, such as your VAIO® PC or Giga JukeTM music server. Using your BRAVIATM remote control, you can quickly access content on connected devices and even control playback functions like pause, fast-forward and rewind; perfect for streaming your MP3s around the home. It's also a convenient way to view your digital image collection, watch downloaded movies or camcorder clips, all in Full HD, and without the hassle of tangled wires cluttering your room.
For the first time, AppliCastTM lets you access an exciting range of online services without having to switch on your PC. Connected via the Ethernet port to the Internet, the Z5500 can display your favourite RSS feeds, from international news and share prices to weather forecasts, horoscopes, celebrity gossip, and more. Also accessed via the easy-to-understand XMBTM (XrossMediaBar) on-screen interface, there's a choice of handy 'widgets' that can be simultaneously viewed while watching your favourite TV shows. Alongside a pre-installed analogue clock, calendar and 'How To Use AppliCastTM' guide, the Z5500 can download other networked widgets from a list that includes: calculator, alarm, world clock and picture frame online, which allows you to display an image that is stored online when the TV is in Picture Frame Mode.
The Z5500 also comes equipped with CI Plus interface, which offers greater security for broadcasters, enabling them to offer premium content directly to your TV without the need for a separate set-top box. CAMs (Conditional Access Modules) using CI Plus will be available from broadcasters and cable operators supporting this TV [1]. There's also an integrated MPEG 4 AVC HD tuner[2] for enjoying your favourite HD broadcasts without the need for a set-top box.
In addition, the television boasts BRAVIA sync technology, which enables you to control your BRAVIATM TV, home theatre system and Blu-ray Disc player with just one remote control, meaning you can control all three products with the touch of a single button.
Continuing the emphasis of the 2009 BRAVIATM range on incorporating energy saving innovations, the Z5500 series consumes 25 to 35% less power on average than comparable 2008 models. It also has a series of eco-aware features, which are grouped together under the new ECO setting on the XMBTM menu, for easy and convenient access.
These features include an auto shut-off function, which means the BRAVIATM Z5500 will automatically enter standby mode (less than 0.19W) if no input signal or operation is carried out over a set period of time, meaning energy is not wasted unnecessarily. Also included is an integrated light sensor, which adjusts backlight brightness depending on the ambient room light to reduce power consumption. Complementing the light sensor, there's an optional power saving mode that reduces backlight illumination levels for comfortable viewing in dim light.
The Z5500 features an 'Idle TV' mode, which functions like a PC screensaver, switching to a standby mode to conserve energy if there's been no user activity for a preset time, which is useful if you're inclined to drop off during late-night movies. The PC Power Management mode switches automatically to standby if no signal is received from a connected computer for 30 seconds. It's handy if you've connected the TV to your computer for some big-screen gaming action and want to take a few minutes break without switching everything off. Also included is a unique easy-to-use electronic on-screen operation manual that reduces the need for printed paper instructions.
Finally, the Z5500 also features the Energy Saving Switch, which not only saves energy, but helps cut electricity bills down even further. Other televisions draw a small amount of power even when they're in standby mode or switched off. Flipping a conveniently-placed switch on the BRAVIATM Z5500 turns the set off completely, just like pulling the plug. Switch it back on again and the TV returns immediately to its previous state.
Create the complete home entertainment experience, with the latest Sony home theatre system
Providing the perfect partner to the sleek lines of the Z500, Sony's new home theatre system, the HT-CT500, is seamlessly tailored for dynamic surround sound with an unobtrusive design. Thanks to a new Graphical User Interface, which allows easy operation of the volume control, input selector and other settings, the subwoofer can be hidden away. Whether you choose to wall-mount your BRAVIATM or place it on a table-top, the stand-alone speaker bar lets you create a unique look. Perfectly-matched to attach to the base of the BRAVIATM Z5500 40″ or 46″ TV, the HT-CT500 can also be left free-standing on the shelf below any BRAVIATM TV series. This 3.1 channel speaker system delivers 400W of total output power, whilst also included are an additional three HDMITM inputs for enhanced connectivity to your HD devices. Finally, there is Sony's award winning S-Force PRO Front Surround technology for an incredible theatre quality experience.
Source: Sony