Mitsubishi Electric gained yet another entry in the Guinness World Records book with the recognition of its revolutionary Diamond Vision® video boards at Cowboys Stadium as the World's Largest High-Definition Video Display. The official certificate presentation will take place during a pre-game ceremony on September 28, just prior to the Cowboys vs. Carolina Panthers Monday Night Football game, which will be aired nationally on ESPN.
The world's first four-sided, center-hung, high-definition video display in a stadium consists of four Diamond Vision® LED video screens, with the two main sideline displays measuring 72 feet high by 160 feet wide, and two Diamond Vision® end-zone displays measuring 29 feet high by 51 feet wide. Weighing 600 tons, the screens are suspended 90 feet directly over the center of the playing surface and stretch from nearly one 20-yard line to the other.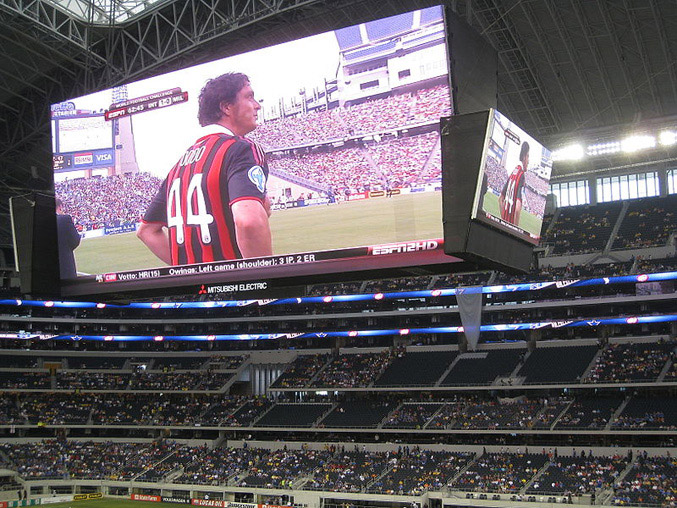 With a total viewing area of 11,393 square-feet, the Diamond Vision® display is equal to 3,268 52-inch televisions, and has 10,584,064 LED lights.
"This was probably the most exciting project we've ever been involved with," said Mark Foster, general manager of Mitsubishi Electric's Diamond Vision Systems. "The Dallas Cowboys are one of the most innovative teams in the NFL, and their new stadium reflects that. These scoreboards and displays are the realization of the Cowboys' commitment to their fans and the sport. We are very proud that the Cowboys organization turned to Mitsubishi Electric to deliver their vision as part of this incredible project."
"We're extremely proud of our world-class Mitsubishi Electric Diamond Vision screen," said Dallas Cowboys Owner Jerry Jones. "We have designed everything about Cowboys Stadium to provide an unequalled experience for our fans, and this screen is the centerpiece of what we have created for them."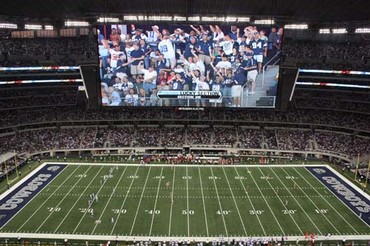 Mitsubishi Electric has now been recognized by Guinness World Records five times for its accomplishments, and the Cowboys' board is the fourth Diamond Vision® screen to be honored by Guinness. The first came in August 2003, for the World's Longest Video Display for the Hong Kong Jockey Club Sha Tin Racecourse in Hong Kong which was installed in August 2003. In March 2005, GWR recognized the Diamond Vision® LED display at Turner Field in Atlanta as the World's Largest High-Definition Television Screen, and in September 2005 the Mitsubishi Electric video board at the Japan Racing Association Tokyo Racecourse was certified as the World's Largest Television Display. In 1993, Mitsubishi Electric was recognized for designing and installing the World's Fastest Elevator — capable of traveling 750 meters per minute (approximately 28 miles per hour) — at the Landmark Tower in Yokohama, Japan.
Mitsubishi Electric Diamond Vision® Scoreboards at Dallas Cowboys Stadium
Center-Hung – Sideline Displays (2)
Width:
159′ 7-1/16″
Height:
71′ 4-3/4″
Total LEDs:
10,584,064
Pixel-Pitch:
20mm
Screen Area:
11,393 square feet
Power Consumption:
635 Kilowatts
Screen Weight:
Approx. 170,000 lbs
Video Source:
1080p HDTV
Resolution:
2,176 x 4,864
Installation start date:
October, 2008
Installation completion date:
June 1, 2009
Center-Hung – End Zone Displays (2)
Width:
50′ 4-3/4″
Height:
28′ 6-3/4″
Total LEDs:
2,088,960
Pixel-Pitch:
16mm
Screen Area:
1,439 square feet
Power Consumption:
80 Kilowatts
Screen Weight:
Approx. 25,000 lbs
Video Source:
1080p HDTV
Resolution:
1,080 x 1,920
Installation start date:
October, 2008
Installation completion date:
June 1, 2009

Source: Mitsubishi Electric