LaCie announced today its LaCinema Rugged multimedia hard drive is now available in High Definition – LaCinema Rugged HD. The LaCinema Rugged product range has the most compact, reliable, and mobile multimedia players on the market. Now, with enhanced HD capability, the LaCinema Rugged HD is the first multimedia player in its class, to allow users to store and play High Definition content – on any HDTV in Full-HD 1080p resolution.
The LaCinema Rugged HD comes with 500GB* of built-in storage capacity, allowing users to store and instantly watch their favorite television shows and movies, listen to music, and display photo slideshows with their family and friends. Compatible with any HDMI supported display, the LaCinema Rugged HD brings multimedia functionality to users while in the home or on-the-go.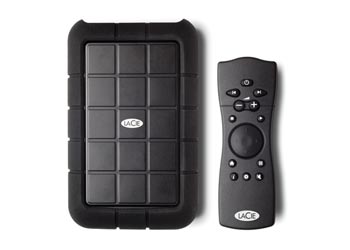 Compatible with both Windows and Mac environments, the LaCinema Rugged HD requires a single USB 2.0 cable, connected to the computer for easy, bus-powered multimedia loading. Once the media content is transferred to the LaCinema Rugged HD, it is ready to be viewed on any display with an HDMI connection. The HDMI cable is included for user convenience. For optimized viewing, the LaCinema Rugged HD supports most of standard and high-definition video codecs (H.264, MKV, WMV9, MPEG-4) to ensure easy High Definition playback.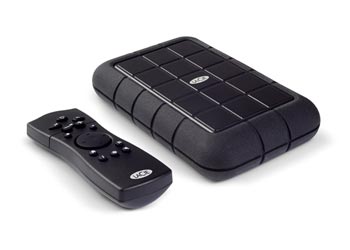 "When it comes to viewing High Definition content, it is hard to find a mobile form factor that that doesn't compromise important features and functionality, like built-in storage, format versatility, and integrated HDMI connectivity," said Christelle Dexet, LaCie Multimedia Product Manager. "The LaCinema Rugged HD not only provides the ultimate mobile design, but it allows users to store large amounts of HD content and play it wherever they desire."

Modeled after the award winning LaCie Rugged Hard Disk, design by Neil Poulton, the LaCinema Rugged HD features a unique scratch-resistant aluminum shell, internal anti-shock absorbers, and a shock-resistant rubber bumper to better protect media files against everyday blunders. The LaCinema Rugged HD provides the convenience of a centralized media library with enhanced graphic menus, setting features and an easy-to-use remote control for navigation.
LaCinema Rugged HD is compatible with all common digital formats and can store up to 700 movies, 165,000 songs, or 165,000 photos**.
Specification:
Item Number :
301459KUA
Capacity :
250 GB
Interface :
Hi-Speed USB 2.0 (USB 1.1 compatible)
Supported File Systems :
NTFS, FAT32
Supported Formats :
Video: MPEG-1, MPEG-2 (AVI, VOB, IFO, ISO), MPEG-4 (AVI, XviD)
Audio: MP3, WMA, AC3, Ogg Vorbis, AAC***
Photo: JPEG (up to 8 megapixels), GIF, PNG, BMP
Subtitle: SRT, SSA, SUB, SMI
Output :
Video: Audio video (composite video + stereo audio), HDMI, optical video
Audio: Analog stereo (via A/V cable included), optical audio
TV Systems :
PAL / NTSC
Size :
90 x 145 x 25 mm / 3.5 x 5.7 x 1 in.
Weight :
250 g / 8.8 oz.
System Requirements :
PC or Mac with a USB port;
Windows 2000, Windows XP, Windows VistaTM /Mac OS;
TV with a composite video and analog stereo or HDMI inputs;
Internet connection for firmware updates
Box Content :
LaCie LaCinema Rugged
Cables: HDMI, composite video + stereo audio, USB 2.0 cable
Remote control
Power adapter
SCART out adapter
Quick Install Guide
Utilities CD-ROM with User Manual and software
Comments :
*1GB = 1,000,000,000 bytes. Total accessible capacity varies depending upon operating environment (typically 10–15% less). **Supports Windows AAC audio format but not Apple AAC format (.m4a)
Warranty :
2-Year Limited Warranty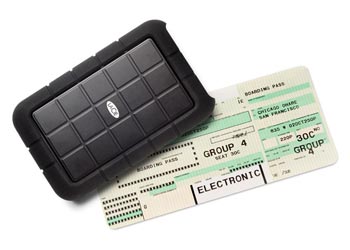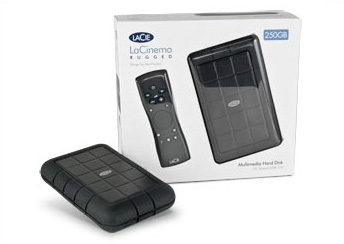 Availability
The LaCinema Rugged HD is available through the LaCie Online Store at the suggested retail price of $349.99. For more product information, visit www.lacie.com.
Source: LaCie