As the popularity of remixing music continues to increase, Pioneer Electronics (USA) Inc. Professional Sound and Visual Division is making it easy for anyone to engage in the art of DJ-ing with the introduction of the CDJ-350 digital media player and DJM-350 2-channel mixer. Both units combined enable beginner and bedroom DJs to create unique performances using varying types of music files.
"Pioneer's established reputation as the de facto brand for professional DJs is proven by its wide use in clubs and commercial events around the world because of its excellent sound quality, reliability and operability," said Matt Dever, vice president of professional sound and visual division for Pioneer Electronics (USA) Inc. "In recent years, more consumers are aspiring to become DJs and Pioneer's CDJ-350 and DJM-350 will make it easy for almost anyone to practice the art and make their own music."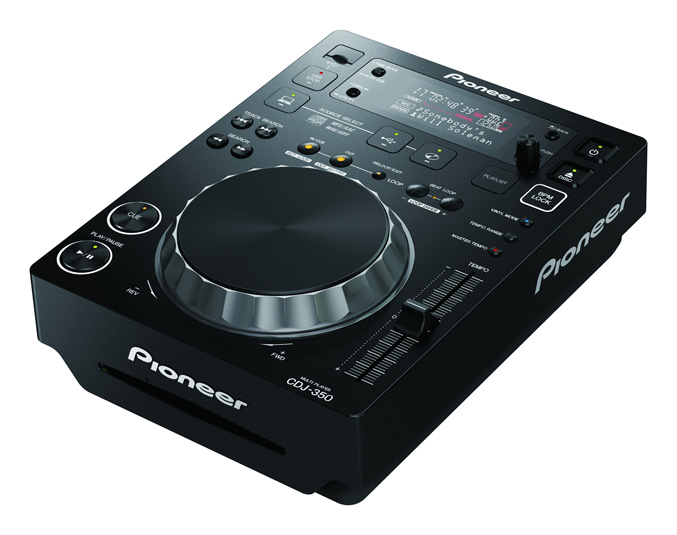 Spin It with the CDJ-350 Multi-media Player
The CDJ-350 will allow users to create DJ performances with various digital music files including MP3, AAC, WAV and AIFF files that are stored on different forms of media, including USB mass storage device class products1 or CD-R/RW discs. The media player also includes Pioneer's proprietary music management software, rekordbox™, making it possible to manage music files on a computer for quick song selection when played back on compatible Pioneer players.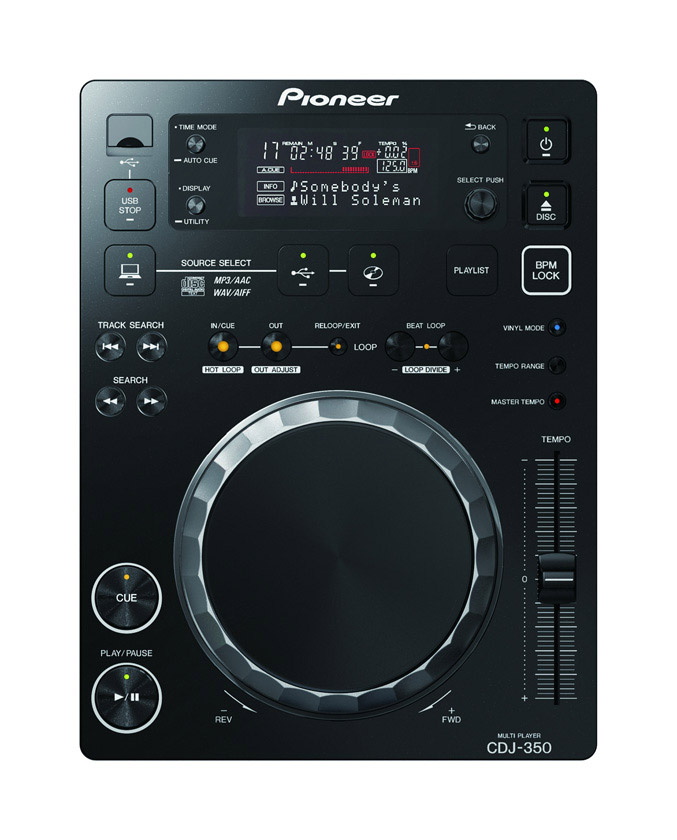 Highlights of the CDJ-350 include:
Compatible with Various Media and Music Formats – Playback of MP3, AAC, WAV and AIFF files recorded on USB devices and CD-R/RW discs as well as conventional music CDs.
Rekordbox™ Music Management Software – Through the rekordbox software, music files are analyzed by BPM2 and beat position and can be categorized by genre. Analyzed music can be selected by genre, album or artist on the CDJ-350.
BEAT Display Function – Visually illustrates the beat position of a song and the playback point providing easier hand, eye and ear coordination when performing scratches and loops.
Auto Beat Loop Function – With one press of a button on the player, the user can create various loop performances including:

Beat Loop – Matches the beat and repeats a 4-beat loop
Loop Divide – While playing a loop, plays the loop at a different rhythm
Hot Loop – While playing a loop, returns to the start of the loop and plays it

Auto BPM Lock – Users can set a Master beat per minute (BPM) on the CDJ-350 that current playing songs can be synchronized to with a touch of a button. The feature enables beginners to easily match the tempos of songs by simply adjusting the speed to the Master BPM on each player.
Create Playlist Function – While a song is playing, users can immediately add it to a new playlist with a touch of a button for future playback of favorite songs.
DJ Software Compatible – The CDJ-350 is MIDI compatible with other DJ software allowing it to be used as an audio interface.
Other features include:

Vibration-resistant utilizing Shock-Proof Memory3 and Floating Architecture
Four level tempo settings for maximum variation range of a song's tempo (±6%, ±10%, ±16% and WIDE)
Resume Function enables users to remove a disc and resume playback at the same spot when the disc is reloaded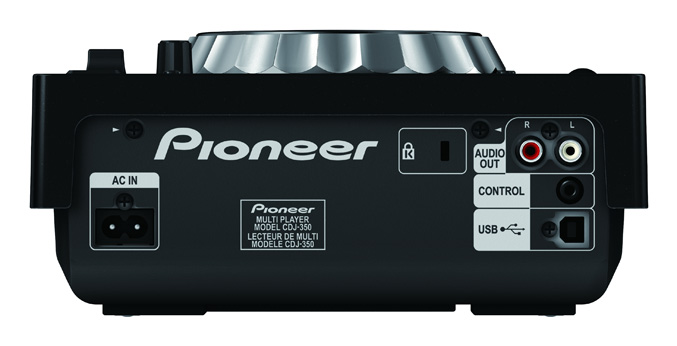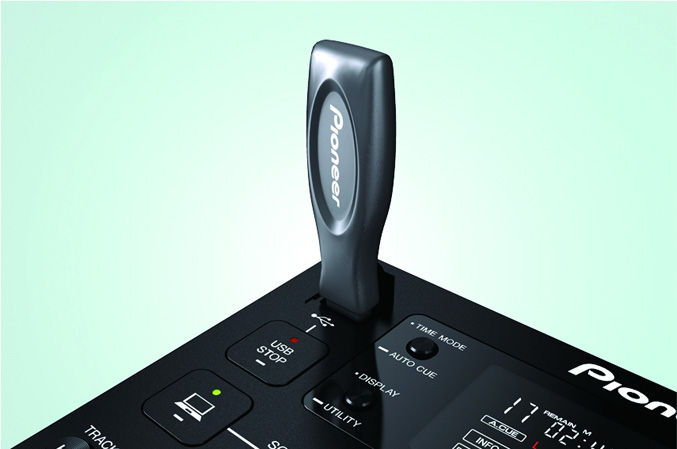 Blend It with the DJM-350 Mixer
The DJM-350 mixer inherits similar functions and operability of the popular Pioneer DJM series of mixers often experienced in the club scene. The mixer is equipped with four kinds of effects as well as an isolated 3-band equalizer—all of which allow the DJ to make a one-of-a-kind mix. The front USB port allows users to record their DJ mixes onto USB storage devices, check their own mix and take it with them to listen on other devices.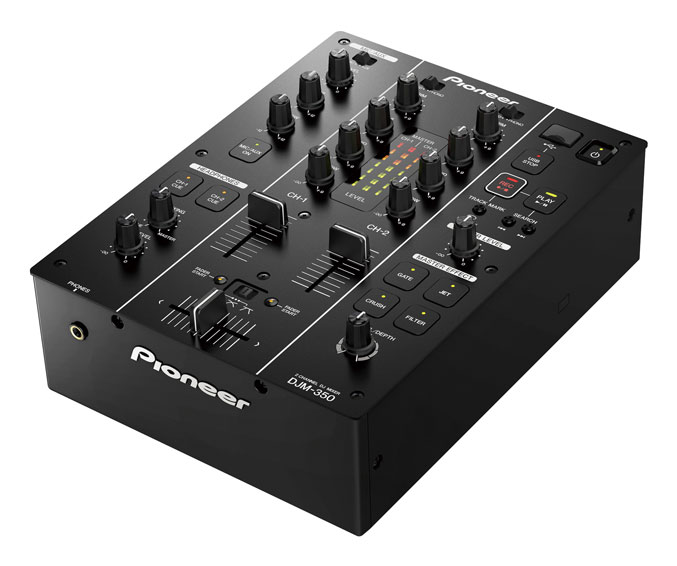 Highlights of the DJM-350 include:
Directly Record to USB Devices – Users can conveniently record their DJ mixes directly to a USB storage device via a USB port (Type A) located on the face of the mixer without having to use a computer or recording device. Recorded DJ mixes are saved as WAV files, allowing them to be imported for playback on a PC or other portable audio players.
Four Types of Effects – The DJM-350 is equipped with four types of effects, enabling users to further enhance remixing capabilities:

Filter – Greatly alters the tonal quality of the music by removing audio from the high or low frequency bands
Crush – Accents sound by moderately crushing it
Jet – Applies a jet plane taking off or landing to the music
Gate – Alters the rhythm of a track by cutting the range which characterizes the rhythm component

Isolated 3-Band Equalizer – The mixer features a built-in 3-band equalizer (isolator4 type) that allows a broad range of independent level control, from +9dB to -∞ (cut) in each of the HI, MID & LOW ranges.
Digital Conversion – Analog signals are converted into digital form via high-performance CPU for higher fidelity sound. In addition, analog and digital circuits are isolated to minimize induced noise.
Other features include:

MIC/AUX input terminals for connecting portable audio players and/or microphones
A Pioneer CDJ player can be used as a fader, start or play functions via a link to the fader control
Peak level meters indicate the input levels of each channel
Crossfader Curve Adjustment function makes it possible to adjust the crossfader5 curve
The CDJ-350 and DJM-350 will be available in June 2010 with a suggested retail price of $850 and $750, respectively.
Source: Pioneer