The Japanese digital camera maker Canon has officially entered the 4K era by announcing two new video cameras with support for 4K video – the XC10 and EOS C300 Mark II.
The first camera has an 1-inch, 12 MP CMOS sensor and includes a high-speed Digic DV5 image processor as well as ISO 500 – 20 000 of sensitivity. The camera also has 10x optical zoom, fixed lens that is 24-240 mm equivalent to f/2.8-5.6, USB and Wi-Fi connectivity, HDMI 1.4, microphone and headphone jacks, 12 stops of dynamic range, a 3-inch foldable display, DC power and a built-in neutral density filter. The XC10 can record 4K video at 4:2:2 color sampling and at 305 Mbit/sec of maximum data transfer rate and stores all this information on a 64 GB memory block that sits inside the camera. All this is housed in a chassis that is small-sized at just 4.9 x 4 x 4.8 inches (124.4 x 101.6 x 121.9 mm). The camera will sell for USD 2499 and will reach consumers in June of this year.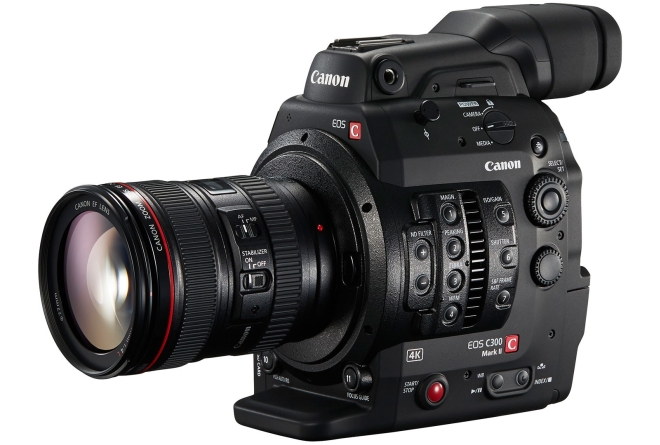 The new Canon EOS C300 Mark II is a professional camera that looks like the Canon C300 camera a lot. It has an all-new 9.84 MP full-sized Super35 sensor and nearly the same dimensions found in the Canon C300. This is the place to say that the camera sensor sensitivity goes down to 8.85 MP when shooting at 4096 x 2160 pixels and to 8.29 MP when shooting at 3840 x 2160 or 1920 x 1080 pixels. In addition the EOS C300 Mark II has fifteen stops of dynamic range, a Dual Digic DV5 processor that allows 4K capturing at 4:4:2 at 10-bit depth, ISO 100 – 102 400 and support for 2K video recording or HD video recording at 120 FPS. Moreover the sensor read speed is reported to be two times faster and better than the old C300 model. The new C300 Mark II can record 4K video at the whopping 410 Mbps in 10-bit 4:2:2 at up to 29.97 frames per second on CFast 2.0 cards by using the new XF-AVC Intra codec and 2K and HD videos can be recorded at RGB 444 in 10-bit at 210 Mbps or 12-bit at 225 Mbps to CFast 2.0 by using the same codec.
Unfortunately for some of you the Canon C300 Mark II will sell for GBP 11 299 excluding taxes in the UK and what's even worse – it will be commercially available in Q3 2015. If you happen to live in the US, though, you can pre-order the camera now for USD 15 999.
Source: Newsshooter.com