DXG announced today the launch of the DXG 3D pocket camcorder in a bundle with a 3D seven inch media player, allowing users to create and view 3D video and digital photos without the need of glasses. The bundle is available for purchase at the price of $599.99.
The DXG 3D makes it possible to record videos in 3D and then watch it with the media player. With the compact design of the camcorder, consumers will be able to quickly view and record 3D videos and digital photos directly on the 3.2 inch LCD display, and also on the seven inch 3D media player in bundle with the camcorder, or even directly on your 3D Television set. The DXG 3D Camcorder supports up to sixteen gigabytes high-capacity SD flash cards, which means that consumers will be able to record hours and hours of videos in 3D.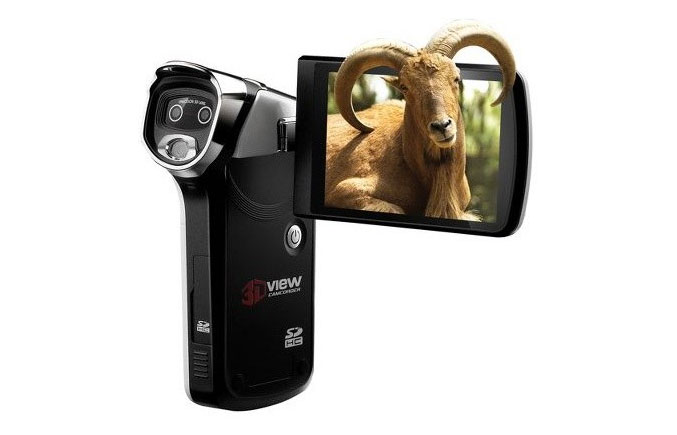 The DXG 3D media player is equipped with a seven inch LCD display, on which you will be able to view your recorded 3D home videos without any glasses on full 3D. The package is also equipped with HDMI and AV Cables for easy playback directly on your 3D Television sets.
"DXG is excited to be at the forefront of the 3D digital content revolution and release a product that allows people to easily create their own 3D masterpieces," said Paul Goldberg, senior vice president of sales and marketing at DXG USA. "We specifically designed our 3D camcorder and media player bundle with the consumer in mind to create an all-in-one, fun and easy way to record and watch life's adventures in 3D."
3D Pocket Camcorder Specifications:
Availability: Shipment date of August 6, 2010
Price: 3D Camcorder & Media Player Bundle – $599.99
Dimensions: 1.63″ (W) x 4.88″ (H) x 2.93″ (D)
LCD: 3.2-inch 3D TFT Display
Storage: 128MB Built-in Memory; Supports High-Capacity SD Cards up to 16GB
Video Resolution & Format: VGA Standard 3D Dual-Lens Technology; H.264 AVI File Format
Still Photo Resolution & Format: 5-megapixel; JPEG format
Power Supply: NP-60 Li-ion Battery
Zoom: 4X Digital Zoom (2D mode only)
Connections: HDMI interface and cable; USB/AV cable for connecting to the TV or to your PC or Mac
Software Included: 3D Video Conversion Software
Other Items Included in Package: 3D Media Player, Camcorder case, HDMI cable, USB/AV cable, NP-60 Li-ion battery, battery charger
DXG 3D Media Player Specifications:
Dimensions: 8.39″ (W) x 5.41″ (H) x 0.94″ (D)
LCD: 7″ Parallax-Barrier Auto-Stereoscopic (Glasses-Free) TFT Display
Resolution: 800×480
Display Effects: Normal, black and white, Sepia, Lens Distortion
Video Format & Resolution: MPEG4, AVI, 720x480p at 30fps
Audio & Image Format: MP3; JPEG
Control Format: Touchable Keys, Remote Control
Audio & Video Output: AVOUT, Earphone Stereoscopic Output
Storage: Supports SD/MMC
Power Supply: 5V DC, 2A
Output Interface: USB 2.0
Source of News: Engadget