FujiFilm announced  their second 3D compact camera,  which now have the ability to shoot movies in 3D HD at 720p. The inePix REAL 3D W3 digital camera has twin 10 MegaPixel CCD sensors and dual FUJINON 3x optical zoom lenses (35-105mm) and comes with larger 3.5-inch Autostereoscopic 3D LCD display, where the images and moviescan be viewed in 3D without the need of 3D glasses.
W3 boasts slim body with black matte finish, which measures 21.0 mm at its thinnest point and weighs 8.5 ounces with battery and memory card. It also comes with Mini HDMI 1.4 port for easy playback on most 3D television and includes advanced 3D and 2D capture modes, that allow for independent use of the dual CCD sensors and FUJINON lenses,  just as if shooting with two digital cameras, the user can choose different zoom ranges and color settings for each image, capturing both at the same time. The camera will be available in September for around $500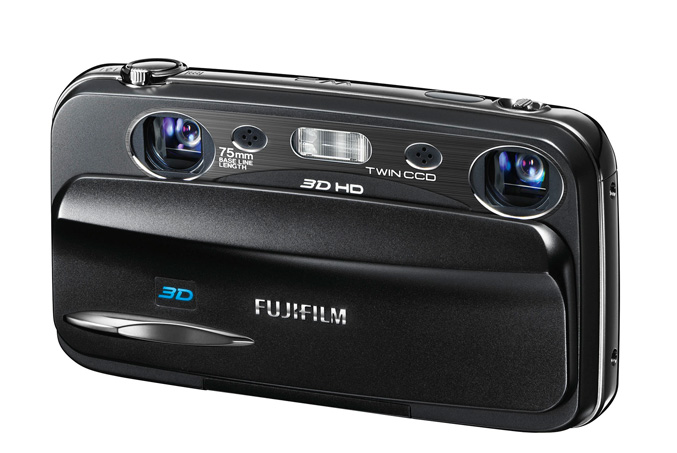 "Last year, Fujifilm introduced the first real, complete solution for 3D digital photography, once again showing our commitment to the evolution of imaging technology," said Go Miyazaki, division president, Imaging and Electronic Imaging Divisions, FUJIFILM North America Corporation. "With the new FinePix REAL 3D W3 digital camera, we have made 3D imaging more accessible to all consumers, enabling them to shoot in 3D HD and making it easy to view their photos and movies on most 3D TV systems."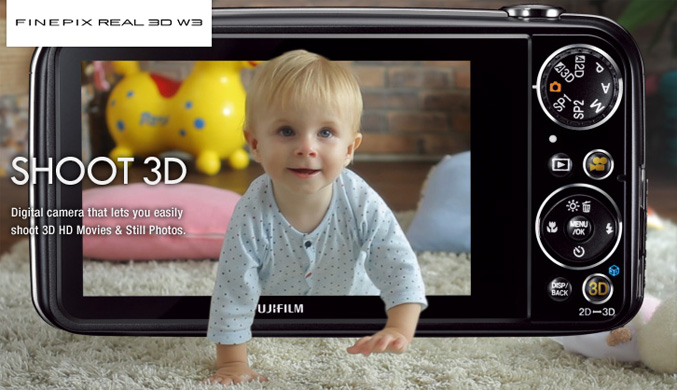 The FinePix REAL 3D W3 additional functions:
Switch 2D/3D Button: Switch between capturing a subject in 2D or 3D instantly with the touch of a button and effortlessly capture movies and pictures for every kind of scene.
One Touch Movie Mode: No need to fumble to find the movie mode, as the button is located right on the back of the camera, instantly changing from still to movie mode, making it convenient for taking HD quality movies in either 3D or 2D.
Auto and Manual Parallax Control: The camera automatically adjusts parallax in 3D Auto mode for an optimal sense of depth. Manual mode is also possible by operating the Parallax Control lever on the top of the camera to easily fine-tune the sense of depth and alignment of the images. Both can be used to eliminate "ghosting" and increase or decrease the 3D effect.
MyFinePix Studio 3D Movie and Photo Editor: Manually edit captured 3D images effortlessly with MyFinePix Studio software that's included with the camera. Separate a 3D still photo (MPO file) into left/right still image data, and recombine left/right still photos into 3D photos (MPO file). MyFinePix Studio also lets you freely cut and splice 3D movies.
Manual Shooting Functions: Choose "M" (Manual) mode for the freedom to set shutter speed and aperture. Get instant control of depth of field in "A" (Aperture Priority) Mode. With the built-in "P" (Program) Mode, the camera automatically sets the shutter speed and aperture value.
Scene Positions: Select from among the 13 Scene Positions (SP) that matches the subject and situation. The camera automatically optimizes camera settings for some of the most common shooting environments, making it easy to get great 3D photos in virtually any shooting situation.
Super Intelligent Flash: This advanced flash system automatically adjusts flash output and timing to capture subjects and background in bright, natural detail over the full flash range. No more flash washout even when taking ultra close-up shots.