Panasonic introduced the newest member of the LUMIX ZS-Series. With an impressive 20x optical zoom, a 24mm ultra wide-angle LEICA DC VARIO-ELMAR lens and the ability to shoot Full-High Definition (HD), the new LUMIX ZS20 is an extremely versatile point-and-shoot model.  All the models of the LUMIX ZS-Series are known for their powerful zoom, wide-angle in a compact body and all of them offering exceptional image quality.
LUMIX ZS20 has a built-in GPS*2 functionality, so you can pinpoint location where your photos were taken and share it with your friends on internet maps. Map data can be installed via a bundled DVD, giving the camera detailed worldwide maps of major regions.  The new LUMIX ZS20 shows the name of the Country/Region, State/Prov./County, County/Township, City/Town/Village and Landmark of where a photo were taken, while many GPS cameras show only the latitude and longitude.
With a newly developed 14.1-mpx High Sensitivity MOS sensor, LUMIX ZS20 provides you higher image quality. With the Venus Engine image processor, ZS20 features high speed and high sensitivity image recording. Even when the subjects are moving quickly, the ZS20 is able to produce extremely clear video details with its upgraded full-HD recording capability. Record and enjoy high-resolution, full-HD 1,920x 1,860 60p videos in AVCHD Progressive (MPEG-4) format or 30p in MP4 format.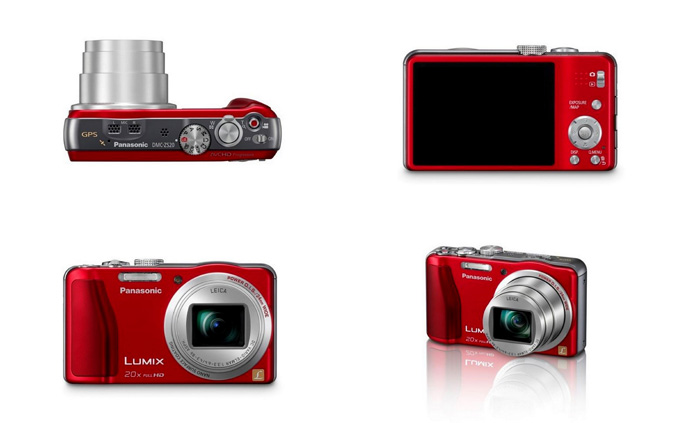 Your videos will have a high realistic sound, thanks to the stereo zoom microphone that provides videos with the high-quality stereo sound of Dolby® Digital Stereo Creator. The microphone also has Auto Wind Cut function that helps to block out wind background noise and makes voices clearer to improve overall video sound quality.
Expressive Retro, Dynamic Monochrome, Sepia, Miniature Effect are a little part of the artistic effects that LUMIX ZS20 offers you. The ZS20 also has manual control options, which allow you to adjust shutter speed and aperture, and 3D Photo Mode. With one simple touch of a button you can apply the Auto Retouch function that automatically adjusts contrast and brightness for clearer and more natural images.
Whit its 20x optical zoom and 24mm wide-angle lens, this slim enough to slip in a pocket camera is an excellent choice for consumers who want to capture all details of their memories.
LUMIX ZS20 will be available in March 2012 in black, red, silver and white colors.
Source: engadget