Samsung PL90 digital camera with built-in USB connector

Last week Samsung introduced HMX-E10 pocket-sized camcorder with build-in USB connector and today they has released another one with… yeah  built-in USB connector. The new point-and-shoot camera, called PL90 feature 12.2 megapixel, 2.7 inch 230K-pixel LCD, 4x zoom lens and …yes you know already.
The new camera's plug and play capabilities, allows you to connect it to computer without the need of additional wires and to share its content with friends quickly and easily with included Auto-install intelli-studio software, as well to charge the battery. The PL90 also is capable to record 640×480 videos with 30fps, offers intelligent Smart Auto function, which  automatically adjusts the camera's mode to instantly match the shooting environment-during the day or at night, in portrait or landscape. You will also get -Perfect Portrait System including Self Portrait function, Face Detection, Smile and Blink Detection and Beauty Shot function, which allows users to adjust brightness and face tone, while also reducing flaws on all faces in a photo.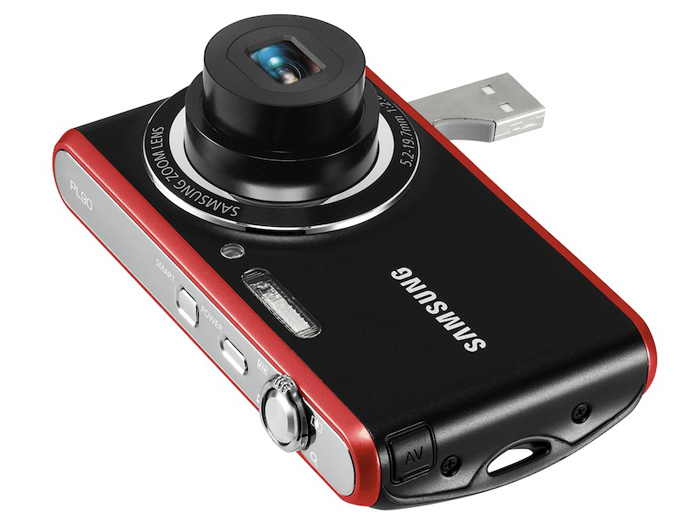 "We want consumers to enjoy the entire photographic experience through the PL90, with the ability to capture, connect, and share pictures instantly and even charge on the move," said Sangjin Park, President of the Digital Imaging Business, Samsung Electronics. "In this fast paced world, we understand that our customers need to have these capabilities at their fingertips, and the PL90 puts this power in their hands. The PL90 is further evidence of the continued innovation behind Samsung cameras."
PL90  Specifications
Mega-Pixels: 12.2 mega-pixels
Optical Zoom: 4x Optical Zoom
LCD Size: 2.7 inch, 230K-pixel LCD
Lens: Samsung
Movie Mode: 640×480 (30/15fps)
Size: 3.9" x 2.2" x 0.7"
Special Features:
Built-in USB Plug
Smart Auto Function
Objective Tracking AF
Smart Album
Perfect Portrait System: Beauty Shot / Face Detection / Self Portrait / Smile Shot / Blink Detection/Red-eye Fix
The PL90 will be available September 2010 for $149.99