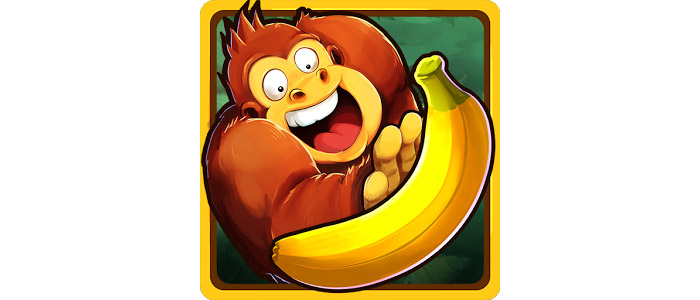 We doubt it will take you that much time to realize what Banana Kong is all about as the name of the game says it all but there's definitely more to it and you will soon see why.
Banana Kong is a runner game for Android where you command a nice looking gorilla that is trying to run away from a huge rolling pile of banana peels. It is not surprising then that you will be running all the time while collecting bananas in numerous ways – by running over them, jumping to get them and more including the really funny way of using a parachute to slow down gravity and collect more. You can also swing on vines or collect power-ups that will give you enough power to run ahead like a rocket. A bit later in the game you will also encounter more dangers such as crocodiles, piranhas, lava and more. The game is dynamic and fun offering you fast-paced action, nice graphics and pleasant music, which you will enjoy a lot.
The game does not have drawbacks except that it has ads inside and … it freezes. At least it did so in our case. This is not nice and we hope that it is an isolated accident that will not happen again.
You can try Banana Kong for free on Google Play here.