After announcing the all-new Neutron XT line of solid-state drives Corsair has released two new USB 3.0 flash drive families – the Flash Voyager Slider X1 and Flash Voyager Slider X2. In addition to these two the famous US company has demonstrated new looks for the ultra performance Flash Voyager GS and Flash Voyager GTX drive families and has added a 512 GB model to the first one.
The Flash Voyager Slider X1 and X2 families bring a number of features to the table, including a cap-less USB drive design, a glossy finish and various capacities as well as read speeds. Both families offer USB 3.0 support but differ in the capacities offered – the Slider X1 family arrives with 16 GB, 32 GB, 64 GB, 128 GB and 256 GB capacities while the Slider X2 is available in 16 GB, 32 GB, 64 GB and 128 GB capacities. The Slider X2 is also a bit faster than the Slider X1 by offering read speeds of up to 200 MB/sec; the Slider X1 achieves up to 130 MB/sec of read speed.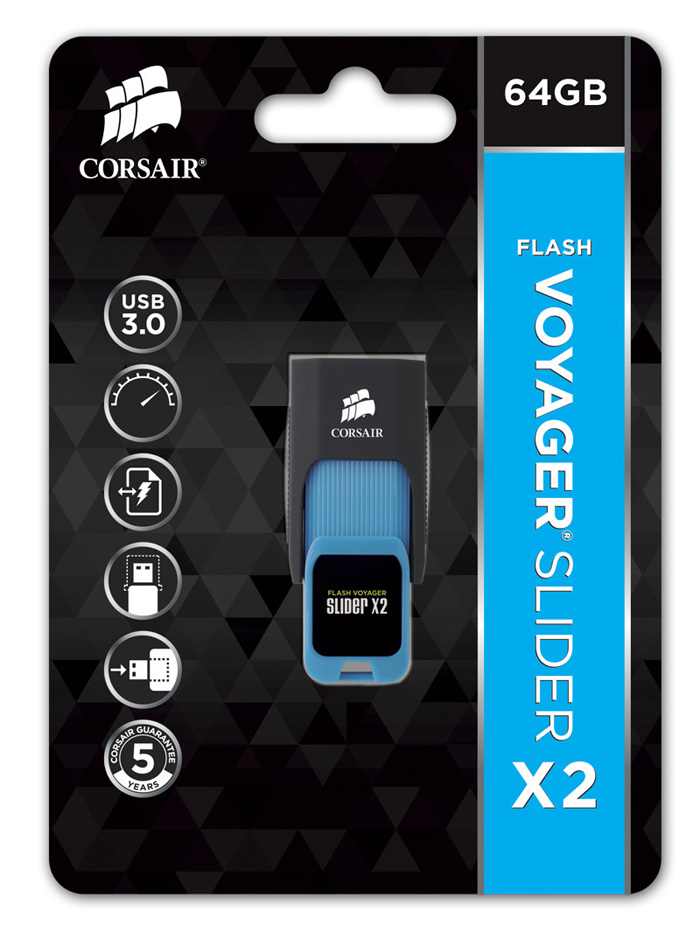 The drives from both families are very compact at just 54 mm in length and can be attached to keychains or carried in other ways. The drives are also compatible with Windows, Mac OS and Linux and offer USB 2.0 support too. You can be sure in your Slider X1 or X2 drive – it comes with a 5-year warranty.
The Flash Voyager GS and GTX families now come in more rugged chassis that ensure better protection for your information. The Voyager GS family offers 64 GB, 128 GB, 256 GB and 512 GB capacities for all kinds of files and reaches read speeds of up to 260 MB/sec and write speeds of up to 105 MB/sec. The Flash Voyager GTX family is even faster – it reads and writes at up to 450 MB/sec and 200 MB/sec, respectively, thanks to the installed on-board SSD memory controller. As to capacities, this family offers two – 128 GB and 256 GB.
Both Flash Voyager GS and Voyager GTX families come with 5-year warranties and are compatible with Windows, Linux and Mac OS. No word on pricing as of now.
Source: Corsair