Gigabyte has announced the FORCE H7 and H5 gaming headsets, which target gamers and fans of high-quality music. The company says that these two high-end headsets offer superior comfort and excellent acoustic performance in order to deliver rich, premium sound that pushes immersive gaming experience to a new level.
The Gigabyte FORCE H7 headset features true 5.1-channeled surround sound as well as 8 speaker drivers that bring out the finest audio quality available in today's popular game titles. The headset also has gold-plated dual subwoofer drivers that further improve the audio quality. In addition to this the FORCE H7 has an embedded USB sound card that ensures the surround sound is pure and interference-free, while the installed audio equalizer enables gamers to customize audio settings, based on individual preferences.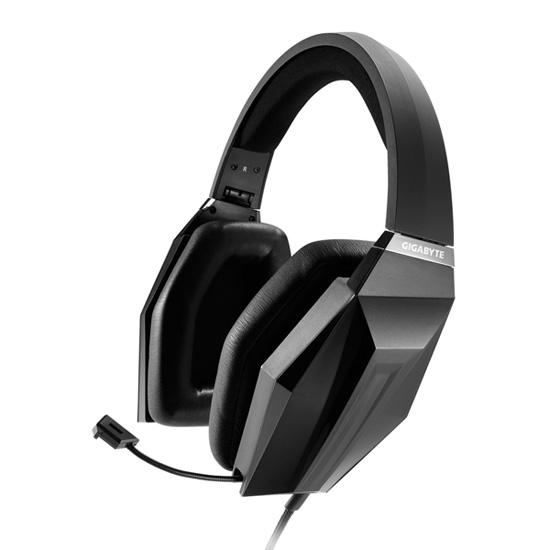 The FORCE H5 comes with dual 50 mm neodymium drivers along with a SRS surround sound engine that presents a 360-degree sound field that allows gamers to easily identify the direction each sound is coming from. This headset, just like the H7, features an on-board USB sound card that requires no software and that lets gamers get straight into action with easy plug-and-play connectivity.
Both new Gigabyte headsets offer a fully adjustable, lightweight industrial design with metal headband and swiveling ear pads to accommodate all types of head shapes and sizes. The one-of-a-kind hexagonally-shaped ear cups completely enclose the ears as opposed to sitting on them which provide superior comfort, while allowing gamers to concentrate uninterruptedly from any outside noises. The memory foam ear cushion wrapped by protein leather adds extended comfort needed for wearing long hours over prolonged gaming sessions. A retractable microphone is included too, providing crystal clear in-game communication with other players.
Unfortunately there's no information on when the H7 and H5 will be in stores or how much they will cost.
Source: Gigabyte