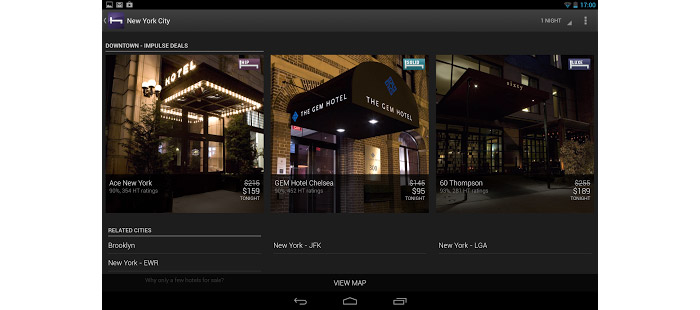 Hotel Tonight is an interesting Android application that allows you to find the hotel that suits you best in many cities around the world. The program is simple to grasp and weighs in at just 11 MB, so it's not heavy on your hardware and disk storage space.
Hotel Tonight covers a number of countries including the USA, Canada and Mexico as well as about half of the European countries out there, mostly from Western Europe. When you select a country you will be taken to a long list of cities and then to a list of participating hotels. Sometimes depending on the time zone you may have to wait, for example if you wish to book a hotel in the USA while it's nighttime there. All participating hotels usually offer good deals and you may end up saving quite a bit of money in the long run. Before you book a room you also get a number of nice pictures that describe the hotel. As the poet says a picture is better than a thousand words so here you have it!
A downside of the app is that it leaves a number of important countries behind – for example Eastern Europe along with Russia are not there. The same is valid for China, Japan, Australia, Brazil and other countries like there but the team behind Hotel Tonight is working on new updates so users may soon see them added to the list of countries along with other locations.
You can download the app right here: Hotel Tonight
Source: Google