Days after the 2015 Mobile World Congress ended in Barcelona, Spain, the German exhibition CeBIT has opened its gates to everyone who is interested in various digital devices. This means one thing – we will have news galore here and we hope to be able to present interesting news to all our readers. In fact the first news from CeBIT 2015 is all around us and we will now join the fray by saying that Intel plans a new SSD line known as Series 750.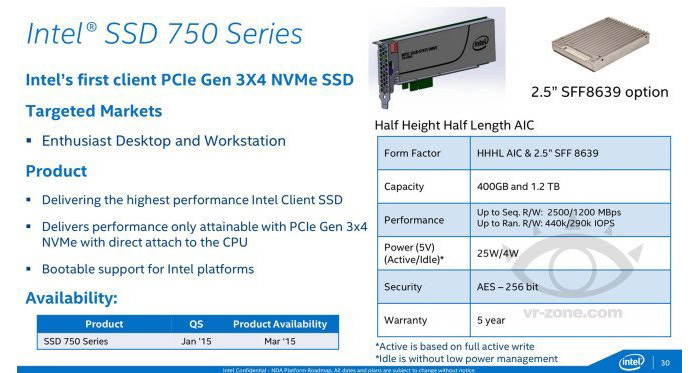 The acclaimed US tech company has presented the new SSD line in a rather interesting way – by starting an ad campaign well before the actual product hits the market. The ad campaign, however, has made it possible for us to find out the technical details of the new solid-state drive line so all is good. Here's what the Series 750 line will bring – three high-performance models with different interfaces. We will have one 400 GB model with a PCIe 3.0 x4 interface (model number SSDPE2MW400G401), one 1.2 TB model with a PCIe 3.0 x4 interface (model number SSDPEDMW012T401) and then another 1.2 TB model with a SATA Express 40 Gb/sec interface (model number SSDPEDMW012T401). According to Intel the new drives will offer sequential read speeds of 2500 MB/sec, sequential write speeds of 1200 MB/sec and random read/write speed of 440K and 290K IOPS, accordingly. The drives will also offer 256-bit AES encryption, a 5-year warranty and low power consumption – 25 watts when operating and 4 watts when idling. The SSDs will sport the HHHL AIC (Half Height Half Length Add-in Card) form factor (PCIe 3.0 x4 models only), while the SATA Express model will be a 2.5-inch device.
The new Intel Series 750 solid-state drive line will appear on April 1 this year. No word on pricing but unofficially the 1.2 TB models will sell for around EUR 1200.
Source: Intel