Pioneer Electronics (USA) Inc. unveiled the AVIC-Z110BT, its flagship in-dash navigation system that allows consumers to simultaneously access mapping and route guidance information, enjoy various forms of audio and video entertainment, control an Apple iPod®/iPhone® and a Bluetooth® enabled cell phone with natural voice commands and receive updated traffic, weather and local event information via an optional MSN Direct® tuner. The AVIC-Z110BT navigation system features a large motorized 7-inch touch panel display, CD/DVD Video playback, built-in Bluetooth and a customizable touch screen interface for quick access to frequently used features.
"Today's consumers demand more out of their personal electronics and the AVIC-Z110BT provides unparalleled performance across all aspects of mobile entertainment and convenience for any driver," said Ted Cardenas, director of marketing for the mobile business group of Pioneer Electronics (USA) Inc. "It's an advanced, simple and easy-to-use device designed to provide the latest in-vehicle entertainment, information and communications."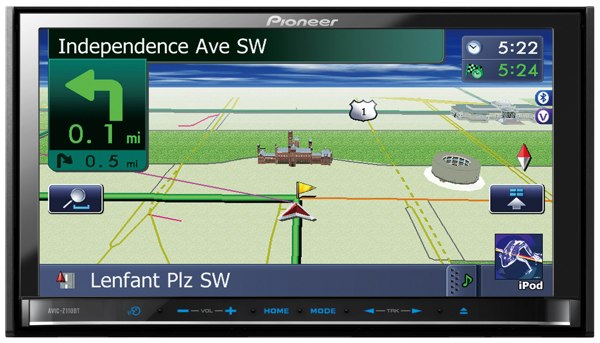 Superior Navigation:
The AVIC-Z110BT offers exciting new navigation features including a Drive Report, Highway Sign Board Guidance and MSN Direct information. With an extremely fast processor and 4GB of on-board flash memory, the system delivers detailed mapping and route guidance for the continental United States, Alaska, Hawaii, and Canada. The system utilizes a comprehensive Tele Atlas® map database which includes more than 12 million points of interest (POI) organized in more than 150 categories.
Drive Report – After filling up with gas, users can input the fuel price and mileage of their vehicle. The system will then calculate and display varying trip costs for multiple proposed routes. Using this data, the user can select the most cost effective route. In addition, the unit also has the ability to estimate the vehicle's CO2 emissions based upon actual driving habits and fuel consumption. And, when users transfer the information generated by the system to Pioneer's free AVIC-FEEDS® PC software*, they can obtain more detailed information that may help improve fuel efficiency.
Highway Sign Boards – Simulated highway signs will appear onscreen when a major junction approaches for a quick visual aid while navigating. The feature forewarns drivers by highlighting the sign and the proper driving lanes they should be in for passage through major interchanges and exits.
MSN Direct*1 – The AVIC-Z110BT is designed to interface with an optional MSN Direct tuner to provide users (who subscribe and pay for the MSN Direct service) with updated traffic information. Available in 134 cities across the United States and Canada, traffic incidents and traffic flow information are overlaid directly on the map and indicated by different colored lines and traffic icons. In addition, MSN subscribers have access to weather forecasts, gas prices, movie times, news headlines, local events and stock quotes, all accessible directly on-screen.
Map View Modes – The system offers various useful screen views including 2D (North Up and Heading Up), 3D, street view and rear view map modes. In the 3D view map mode, more than 1,300 icons are displayed in 3D illustrations, including buildings, historical landmarks, baseball fields, etc., helping to visually identify the area to the driver.
Detailed City Maps – The system also includes a detailed city view for 65 major cities. In 2D view mode, mapping identifies the road and surrounding areas in its exact form such as road islands, building footprints, parks, baseball fields, city blocks, etc., to visually identify the area to the driver.
Brand Icons – Up to 58 easy-to-recognize brand logos can be overlaid onto the map to help users identify hotels, restaurants, banks, gas stations and even specific chain store locations such as Chili's®, Olive Garden® and 76®.
Control and Convenience
Pioneer's AVIC-Z110BT navigation system is packed with a variety of convenient features for quick access to information and entertainment functions. The customizable home screen menu, advanced voice recognition, text-to-speech voice guidance, touch screen and Bluetooth all greatly enhance control, assistance, and safety elements of the system, ultimately helping drivers to drive while at the same time entertaining passengers through the system's audio and video*2 capabilities.
Customizable Home Screen Menu – This powerful interface allow users to customize the AVIC-Z110BT's home page display. A total of 34 shortcut icons representing navigation, Bluetooth and audio/video functions are available, and up to 15 can be assigned to the home screen menu to make it easier to access the user's preferred functions. Based on the system configuration, icons will automatically resize as they are dragged and dropped onto the home screen.
Sophisticated Voice Recognition – The system features an advanced voice recognition engine to perform key navigation and audio/video functions, which is particularly helpful while the vehicle is in motion.


Inputting an address for routing can be executed by saying the city name, street name and address number, while finding a POI can be achieved by saying its name, such as "Find the nearest Starbucks."

After syncing a compatible iPod/iPhone to the system, conversational commands can be used to initiate music playback from a connected iPod/iPhone by artist, album, playlist and genre. Users can also switch between sources and carry out functions such as play, pause, shuffle, next track and previous track for music from a SD card, USB or iPod device.

Bluetooth Capability – The system is equipped with Parrot® Bluetooth, enabling hands-free cellular phone operation with the car's speakers and the supplied microphone. The system pairs with up to five compatible Bluetooth-enabled cellular phones and can hold an entire phone book for voice activated phone calls, caller ID and hands-free operation. In addition, with compatible devices, the Bluetooth feature allows audio streaming to transmit music wirelessly and control (play, stop, pause, track up/down/forward/rewind) Bluetooth-enabled portable audio players using the Advanced Audio Distribution Profile (A2DP) and the Audio/Video Remote Control Profile (AVRCP).
Enhanced Voice Guidance – The AVIC-Z110BT uses a Text-to-Speech (TTS) engine and a Tele Atlas database to enable the system to clearly verbalize street names.
Audio and Video Entertainment
In addition to navigation functionality, the AVIC-Z110BT is a state-of-the art entertainment system and includes a motorized, high-resolution 7-inch WVGA touch screen display, high quality audio and video playback, dual zone entertainment, iPod/iPhone control and USB connectivity.
Enhanced iPod/iPhone Control – Pioneer enhanced the interface for iPod/iPhone devices with passenger control, link search and video playback.


Passenger Control gives the option for passengers to browse and select music directly through the iPod player itself
Link Search let users view a list of all available content by the currently playing artist (similar to the "artist" folder function on an iPod)
Video Playback allows the user to access video content from a connected iPod/iPhone device for playback to optional rear seat monitors.

DVD video/ CD playback and Dual Zone – The AVIC-Z110BT supports playback of DVD Video, DVD-R/RW and CD/CD-R/RW discs. Recordable discs with iTunes® AAC, MP3, WMA, WAV, DivX® and MPEG4 files are also supported. The system also features dual zone entertainment, sending video and audio content from the DVD player to optional rear seat monitors and wireless headphones*3 while the driver and front passenger listens to AM/FM/HD®/XM®/SIRIUS® Satellite Radio or certain other connected sources.
USB*4/SD slot – Compatible portable devices with a USB connection, such as hard drives and flash memory drives, can be linked through the available USB cable that is connected to the rear of the unit. The system also accepts compatible SD memory cards through the slot located behind the motorized front panel.
Using Pioneer's proprietary PC application software, AVIC-FEEDS, users with properly equipped PCs can create and store additional points of interests, contact lists, drive reports and custom background images onto a USB flash drive or SD memory card to further enhance their in-car experience.
The AVIC-Z110BT can be fully integrated into a large number of vehicles with a 2-DIN dash opening. The systems offers other benefits including Supertuner IIID, Radio Data System (RDS), dual AV inputs, 4-Volt preamp outputs (X3), attachment capability to optional XM*5, SIRIUS*6 Satellite and HD Radio tuners, and customizable illumination. With a range of 32,768 customizable illumination colors available, users can match the factory look of virtually any car's interior.
The AVIC-Z110BT has a suggested price of $1,600 and is scheduled to arrive at retailers in July 2009.

Source: Pioneer