Toshiba's Digital Products Division (DPD), a division of Toshiba America Information Systems, Inc. has announced two new internal solid-state drive lines that provide up to 960 GB of capacity. The two new lines are called Toshiba Q300 Pro Series Internal SSD Hard Drive, which is designed for gaming and creative applications with high-end demand for performance and Toshiba Q300 Series Internal SSD, which offers a balance between high performance and value. Both models provide high-performance, low power consumption and compatibility with Windows, Mac and Linux.
"Toshiba's announcement of the new Q300 Pro and Q300 internal SSDs demonstrates that Toshiba is continuously striving to bring the best storage solutions to the market," said Maciek Brzeski, Vice President of Branded Storage Products, Toshiba America Information Systems, Inc., Digital Products Division. "Today's announcement addresses increasing consumer demand for speed, performance, quality and reliability to improve their computing experience. As the inventor of flash memory, our new Q300 and Q300 Pro Internal SSD Series delivers leading-class performance and reliability to meet a wide variety of computing needs."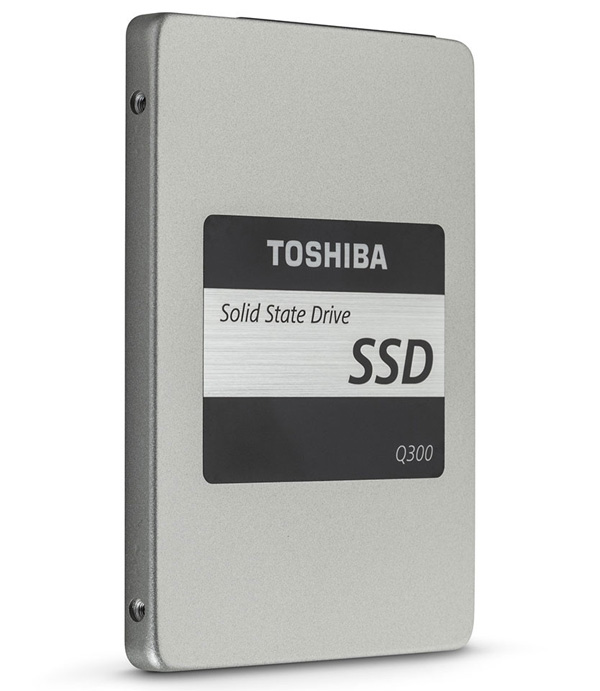 The Toshiba Q300 Pro line features 2-bit-per-cell MLC NAND flash memory, a Toshiba in-house memory controller and class-leading sequential read/write performance and endurance. The Q300 Pro line offers up to 512 GB of capacity in slim 7 mm lightweight aluminum chassis that is perfect for ultrabooks and game consoles.
The Q300 Series features 3-bit-per-cell TLC NAND flash memory technology and a Toshiba memory controller. This line offers up to 960 GB of capacity, a 3-year warranty, low power consumption and durability in ultra-thin 7 mm chassis.
The Q300 Pro Series costs USD 124.99 (128 GB), USD 199.99 (256 GB) and USD 389.99 (512 GB), while the Q300 sells for USD 99.99 (120 GB), USD 159.99 (240 GB), USD 309.99 (480 GB) and USD 449.99 (960 GB).
Source: Toshiba