The provider of network equipment TP-Link has announced the new Talon AD7200 Wi-Fi router. The new company product happens to be the world's first Wi-Fi device with support for the latest 802.11ad standard and as such it may be the fastest router the world has seen to date.
The specs of the Talon AD7200 are impressive – the device runs a new 60 GHz band and reaches speeds that are unthinkable with Gigabit Ethernet technology. The device can allow users to download 100 photos in less than a second, a HD movie in less than 40 seconds and a full 4K movie in less than 8 minutes. What do you say?
"With the Talon AD7200, we've bringing consumers the fastest Wi-Fi ever made," said Lewis Wu, executive vice president of TP-LINK USA. "We're excited to see the response from our customers when they are able to stream and download 4K movies in the blink of an eye, or transfer huge files and photos in seconds. It's a completely different experience than most of us are used to from our network, and we're excited to deliver this innovative technology to the world for the very first time."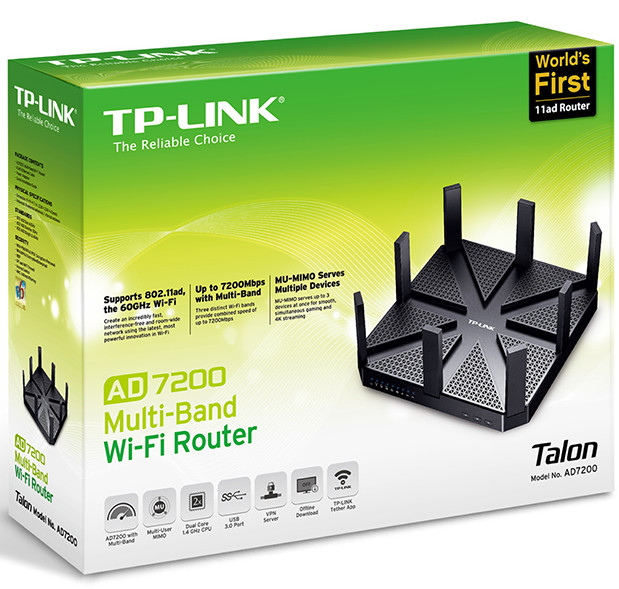 "802.11ad technology powers a brand new class of experiences in the connected home, including lag-free wireless docking, multiple 4K video streams, and instantaneous content sharing, gaming and downloading," said Chris Taylor, director of RF and wireless components, Strategy Analytics. "We expect that Wireless AD technology will continue to gain traction with consumers who need high-bandwidth interoperability in high-density environments."
The new TP-Link router features seven external high-gain antennas and one internal high-gain antenna as well as an external 60 GHz antenna array to create strong Wi-Fi connections at your home. The device sports beam-steering technology and when it detects an object that interferes with the data sent it sends the Wi-Fi waves around the object for no data losses and non-existent lower data transfer speeds. On top of the 60 GHz band the router is also compatible with the older 5 GHz and 2.4 GHz bands. It is powered by a dual-core processor at 1.4 GHz that manages all requests and data transfers and on top of this the Talon AD7200 comes with four Ethernet ports and two USB 3.0 ports for users who want to upload stuff directly from  a USB flash drive.
The new Talon AD7200 Wi-Fi router is now available online and in stores across the USA for a price of USD 349.99.
Source: TP-Link