Garmin International Inc., a unit of Garmin Ltd. , the global leader in satellite navigation,announced the Forerunner 405CX – the latest in Garmin's popular line of GPS-enabled fitness devices, adding increased accuracy in heart rate-based calorie computation and improved comfort to the Forerunner 405 model that took the fitness world by storm. The Forerunner 405CX was announced in preparation for world-class marathons in Paris and Boston, where it will be on display at Garmin booths in each location.
"As today's runners evolve, so must their technology. Once again Garmin leads the way with our smartest Forerunner yet," said Dan Bartel, Garmin's vice president of worldwide sales. "Refined data traditionally reserved for elite athletes and top-tier trainers is now available to anyone interested in accurately counting calories and tracking their progress, all through a stylish and comfortable fitness watch."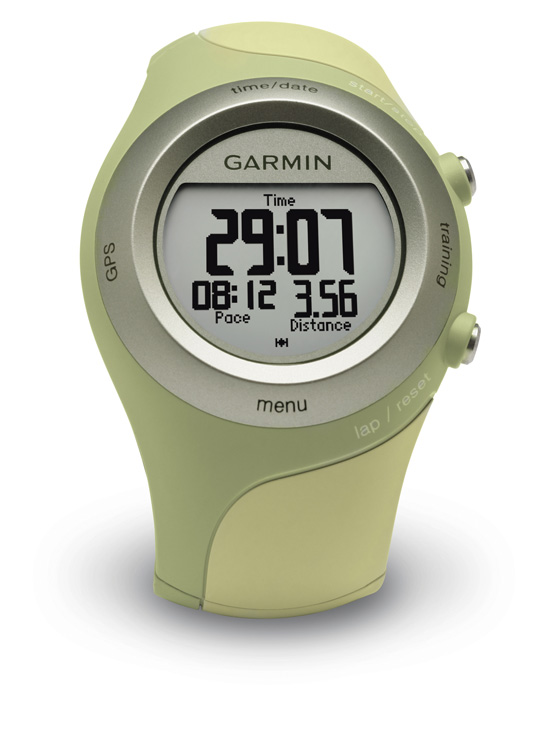 Using algorithms developed by exercise scientists and world-class athletes, Forerunner 405CX monitors the micro changes in a user's heart rate and uses that detailed information to better calculate the number of calories burned during aerobic activity. Whether out running, on a bike, in step class or on a hike, Forerunner 405CX users will get instant gratification as they see the results of their hard work. And those workouts will be more comfortable than ever, as users will have the choice of two additional form-fitting bands to accommodate large and small wrists alike. At only 60 grams and available in a new deep blue color, Forerunner 405CX fits in at the gym or around the office.
In developing the Forerunner 405CX and its heart rate-based calorie computation, Garmin worked with Firstbeat Technologies Ltd., a technology company based in Finland. Firstbeat is an industry leader in heart rate analysis, specializing in developing user-centered software solutions for heart beat signal analysis in exercise and sports, weight management, and stress monitoring applications.
In addition to monitoring heart rate and counting calories with precision, Forerunner 405CX tracks speed, distance and location accurately and effortlessly, and the revolutionary patent-pending touch bezel on the face of the watch makes navigating the options easier than ever. Simply by tapping, holding or running a finger along the bezel, runners can begin a new workout, access their training history or challenge a Virtual Partner™. The Forerunner 405CX makes training with a Virtual Partner easy and efficient. Runners can adjust the Virtual Partner's pace without stopping in the middle of a workout, and the Virtual Partner is always on and ready for a challenge.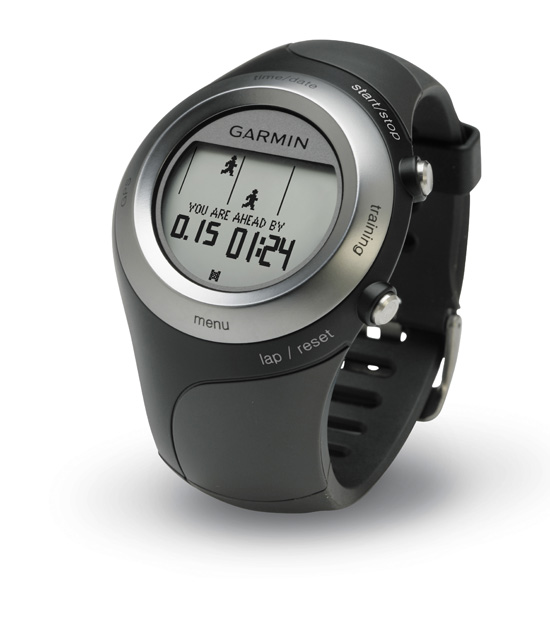 The Forerunner 405CX is water-resistant (IPX7) and can be used outdoors or indoors (with an optional, streamlined foot pod that can fit on laces or under certain shoes' insoles), making it the ultimate year-round, all-weather training tool. And the high-sensitivity GPS receiver with HotFix™ quickly acquires and sustains satellite reception, whether you're tackling a wooded trail or jogging through the urban canyons of skyscrapers. An optional speed/cadence bike sensor helps cyclists monitor their pedaling cadence and wheel speed.
Once the workout is done, the training is far from over. Using ANT+ technology, the Forerunner 405CX sends workout data to the user's PC or Mac via automatic wireless data transfer. There's no need to take off the watch or bother with cables as the computer automatically syncs with the Forerunner 405CX once it's in close proximity. And the data transfer is a two-way street. Runners, joggers, cyclists and hikers can send courses, goals and workouts to their Forerunner 405CX before they begin, and then the data gets sent back to the user's computer when the workout is over. Athletes can log their workouts, track their totals, set goals, share workouts with coaches, friends and family and participate in an online fitness community at Garmin ConnectSM — Garmin's online training site. Users can also share courses and workout data from one Forerunner 405CX to another through wireless data transfer.
The wireless features of Forerunner 405CX are enabled by ANT+ personal area network technology. ANT+ is a leading wireless interface protocol enabling ultra low power applications like fitness monitors. ANT+ offers all the benefits of digital wireless communications with much lower power consumption than other wireless protocols.
The Forerunner 405CX is the latest breakthrough from Garmin, which has spent 20 years using technology and innovation to enhance users' lives, making Garmin a household name in the automotive, aviation, marine, wireless, outdoor and fitness industries. To learn more about the Forerunner 405CX and Garmin's other products and services, go to www.garmin.com and www.garmin.blogs.com.
Source: Press Release