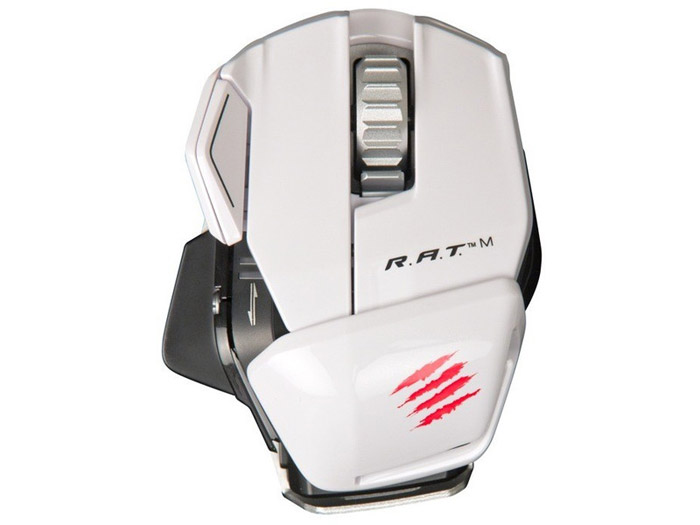 Gaming peripherals maker Mad Catz has officially started the sales of the R.A.T.M. wireless gaming mouse – the first in a new line of GameSmart mobile gaming accessories.
The Mad Catz R.A.T.M. is the first mouse to come with Bluetooth Smart 4.0 technology, a gaming grade laser sensor, leading battery life and high performance. The R.A.T.M. mouse features an adjustable palm rest, 12 action buttons (10 of which programmable) and a power-efficient 6400 dpi twin-eye laser sensor. This allows the mouse to have a battery life of up to one year. In addition the new gaming mouse fully supports Macs and PCs as well as next generation TV sets, smartphones and tablets. For even greater flexibility the mouse arrives with a nano dongle in case you run into a device that does not support Bluetooth Smart technology.
"Smart devices have made considerable inroads in delivering all forms of entertainment including games, music, movies, books, and social media. Mobile gaming is a vibrant and exciting space and we don't see controller-based games replacing touch screen games, we expect them to enhance and enlarge the smart device gaming experience to include the living room experience. There are a number of point-to-point solutions in the market today that provide proof of concept, but the industry needs an agnostic operating system solution to provide standardization, ease of implementation and scalability," said Darren Richardson, the President and Chief Executive Officer of Mad Catz Interactive, Inc. "With our long history in the gaming industry, Mad Catz has the technical capability, product breadth, global distribution, and developer and publisher relationships that uniquely position our company to make this ambitious initiative a success. We believe the GameSmart initiative fits perfectly with our long-term strategy of designing innovative products for passionate gamers."
The Mad Catz R.A.T.M. wireless gaming mouse is available in matte black, gloss black, gloss white and gloss red. Pricing is unknown at the moment.
Source: Mad Catz