Nintendo and Nyko settle Nunchuk dispute peacefully

Nintendo and Nyko have finally come to an agreement over the Kama Wireless Nunchuck. Nintendo filed suit against the peripherals manufacturer back in June, claiming that the Kama imitated Nintendo's own Nunchuk too closely in form and shape.
As part of the settlement agreement, Nyko will be allowed to continue selling the Kama, but in a redesigned form. Even before this announcement, Nyko changed the shape of the Kama to this weird ridged thing. Nyko will show a wired Kama controller and Wing Classic Controller at the 2009 CES.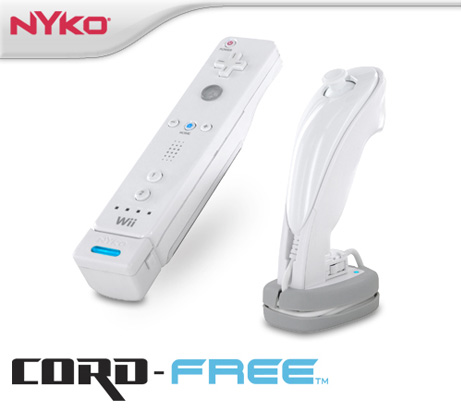 "We are pleased to have resolved this dispute," NOA's Reggie Fils-Aime said in the very short press release announcing the settlement. "The Nunchuk and Wii brands are familiar to consumers worldwide, and Nintendo is dedicated to vigorous defense of those brands."
Features:
• Converts the wired Nunchuk into a wireless peripheral
• Provides lag-free wireless connection between Nunchuk and
Wii Remote
• Wireless technology supports Nunchuk up to 15 feet from Wii Remote
• Two AAA batteries provide up to 60 hours of gameplay
• Cord management system keeps Nunchuk cord hidden
• Unique sleeve holds Nunchuk, cord and batteries in compact,
easy-to-use setup • Self-standing sleeve provides easy storage of Nunchuk

Source: Nintendofanboy