Here's a new toy for every dedicated gamer – the all new ASUS Republic of Gamers Vulcan Pro gaming headset, based on advanced technologies and high-quality materials.
Designed for professional gamers the new ASUS product comes to us with the exclusive ROG Spitfire USB audio processor and advanced dual noise cancelling technologies. The ROG Spitfire USB audio processor works at hardware level and this is the reason why it does not need any drivers. Its design contributes to quicker setup in gaming events, and complies with the most professional venues, which prohibit the installation of additional drivers. The ROG Spitfire is the world's only hardware digital signal processor in the PC gaming category to offer such driver-free convenience.
There's more for every gamer though – the ROG Spitfire provides gamers with easy-reach access to game-enhancing sound technologies: FPS EQ for better audio positioning in first person shooters, 7.1 virtual surround, and headphone amplifier. Each has a dedicated one-click on/off button, with no need to enter any software interface. FPS EQ has been developed by analyzing the audio characteristics of several leading first person shooters, with advanced sound algorithms built into the hardware to improve equalization and bring out details with better clarity. Gamers can hear opponent movements, gunfire, call-outs, and other auditory cues with better directional precision, contributing to successful play. The 7.1 virtual surround mode presents lifelike and distortion-free in-game surround. Its design optimizes surround effects originally not programmed specifically for games, resulting in more natural and balanced enveloping in-game audio. The ROG Spitfire's integrated headphone amplifier features ROG engineering that boosts in-game sound detail, and has been tailor-made to match the tonal performance of ROG gaming headsets, as opposed to off-the-shelf headphone amplifiers.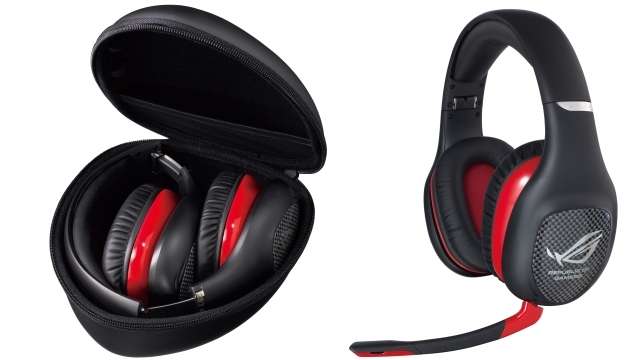 The ASUS ROG Vulcan Pro gaming headset also comes with dual noise cancelling technologies. Noise cancelling is essential to the world of gaming with studies showing that noise distraction is among the main reasons for lower gaming scores. This is the cause why the ASUS ROG Vulcan Pro gaming headset comes with brushed metal headphone side covers that offer a new style as well as better strength. It offers gamers active and passive noise cancellation, meticulously designed by ROG engineers to ensure improved gaming success and immersion. Active noise cancellation filters out low frequency emitters such as PC fans, with up to 85% of noise blocked. Additionally, passive noise cancellation isolates up to 30dB of high frequency disruptions such as environmental noise and human voice, two of the main noisemakers in gaming events. That much noise elimination can practically make busy LAN parties library-quiet, so gamers gain better focus whatever their field of play.
Finally the state-of-the-art ASUS ROG Vulcan Pro gaming headset features large 40 mm neodymium drivers fine-tuned and tested by actual gamers. The ultra soft over-ear ear cushions also make use of highly breathable Japanese protein leather with memory foam, generating greater comfort over prolonged sessions with no ear fatigue. Also acting on community feedback, the ROG Vulcan PRO uses an extended and more flexible microphone boom for easier angle adjustment. Its new unidirectional driver boasts more sensitive voice capture for clearer in-game communication, plus the entire microphone assembly can be detached when not in use to save space and further increase freedom of movement.
In order to protect your precious headset the ASUS ROG Vulcan Pro gaming headset also offers a tough touring case for safe and neat mobility as gamers travel to events. The headset also uses a durable and detachable braided cable that enables easy wire management and eliminating unsightly entanglements.
Pricing and availability are unfortunately unknown.

Source: Bjorn3D.com