At Gamescom 2010, Razer unveils its newest gaming peripherals – the Razer BlackWidow and BlackWidow Ultimate mechanical gaming keyboards featuring "uniquely tactile mechanical key architecture, that provides a crisp response and tactile feedback similar to a mouse click.
The BlackWidow also feature "unique key actuation point" for greater precision and accuracy, fully programmable keys with on-the-fly macro recording, five additional macro keys and optimized key matrix. Razer claims that the keys on the Razer BlackWidow feature one of the lightest actuation forces for all keyboards(optimized actuation force of 50g), as a result, this enhanced key force allows gamers to type and click much faster than other mechanical keyboards in the industry.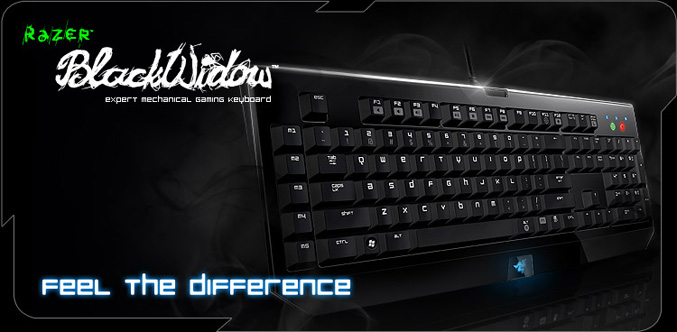 This gaming weapon also feature a response of 1ms, Gaming mode option, USB connectivity and extended lifespan of over 50 million keystrokes. The Ultimate version has a individually backlit keys with 5 levels of lighting, audio and microphone out jacks and additional USB port.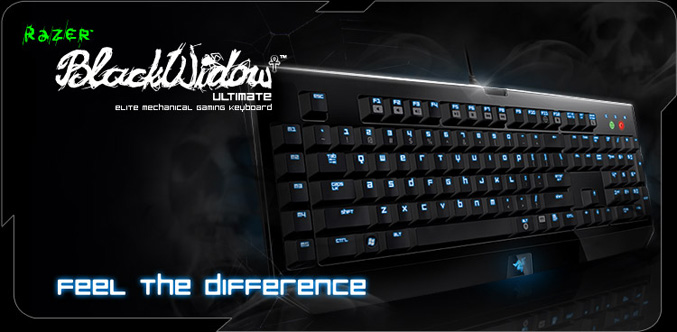 "The Razer BlackWidow is the world's first mechanical keyboard that has been engineered from ground up for gaming," said Robert "Razerguy" Krakoff, president, Razer. "Imagine every single key on the keyboard with the precision of a mouse click – no more pressing of keys without knowing for certain if they have been actuated. Precision clicking coupled with an optimized lighter key actuation force, this changes the way gamers will play from now on. "
The Razer BlackWidow mechanical gaming keyboard and BlackWidow Ultimate will be available in September 2010 for $79.99 / €79.99 and $129.99 / €129.99.
Razer BlackWidow Features:
Mechanical key architecture for faster actuation and extended lifespan
Fully programmable keys + 5 additional gaming keys with on-the-fly macro recording
10 Customizable software profiles with on-the-fly switching
1000Hz Ultrapolling™ for a blistering fast 1ms response time
Gaming optimized key matrix
Easy access media keys
Gaming mode option
Approx. size in mm: 475(L) x 171(W) x 30(H)
Razer BlackWidow Ultimate Features:
Mechanical key architecture for faster actuation and extended lifespan
Individually backlit keys with 5 levels of lighting
Fully programmable keys + 5 additional gaming keys with on-the-fly macro recording
10 Customizable software profiles with on-the-fly switching
1000Hz Ultrapolling™ for a blistering fast 1ms response time
Gaming optimized key matrix
Easy access media keys
Gaming mode option
Audio-out / mic-in jacks
USB pass-through
Approx. size in mm: 475(L) x 171(W) x 30(H)