As you might be expect, Blizzard has announced a limited-release of their third expansion for the world's most popular subscription-based massively multiplayer online role-playing game – World of Warcraft: Cataclysm.
The release date has not been announced yet, but the price for this Collector's Edition will be $79.99 and will only be available at retail stores. If you're wondering what will include, here is the list of exclusive bonus items in addition to the game disc:
Art of the Cataclysm art book, featuring 176 pages of never-before-seen images from the archives of the Blizzard Entertainment cinematics department and the World of Warcraft development team, as well as progressive visuals from multiple stages of development.
Exclusive in-game pet: he may not be a breaker of worlds just yet, but Lil' Deathwing will still proudly accompany heroes on their struggle to save Azeroth from his much, much larger counterpart.
Behind-the-scenes DVD with over an hour of developer interviews and commentaries, as well as a special Warcraft® retrospective examining the rich gaming history of the Warcraft universe.
Soundtrack featuring 10 epic new tracks from Cataclysm, including exclusive bonus tracks.
Special-edition mouse pad depicting Deathwing menacing the ravaged continents of Azeroth.
World of Warcraft Trading Card Game cards, including a 60-card starter deck from the Wrathgate series, two extended-art cards, and two Collector's Edition-exclusive hero cards, marking the first appearance of goblin and worgen heroes in the TCG.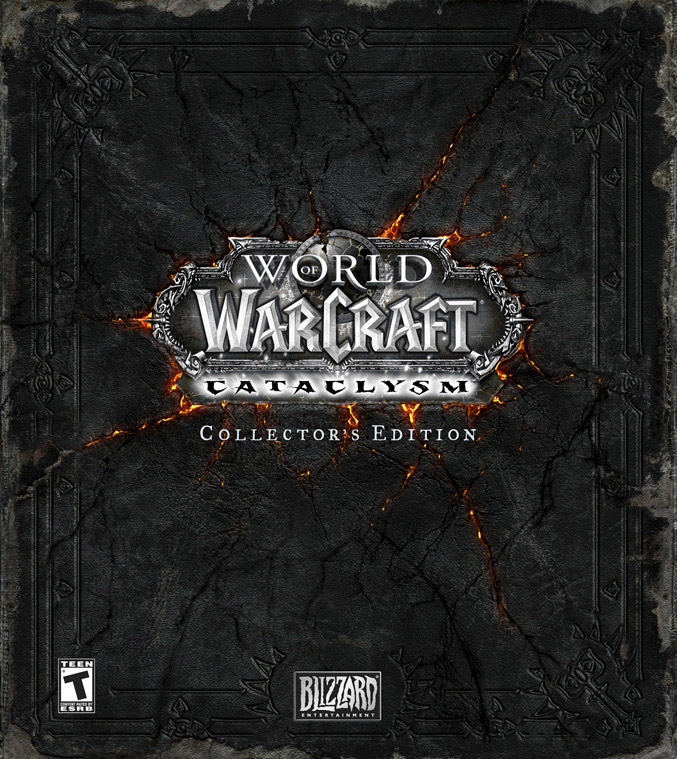 "New Age Has Begun… You've toppled the undead armies of the Lich King and brought Arthas to his knees. Now Deathwing, the breaker of worlds, has burst forth from the heart of the Maelstrom and unleashed his rage upon Azeroth."
"In Cataclysm, the face of Azeroth will be forever altered by the return of the corrupted Dragon Aspect Deathwing. Players will explore once-familiar areas of the world that have now been reshaped by the devastation and filled with new adventures. In an effort to survive the planet-shattering cataclysm, two new playable races — worgen and goblins — will join the struggle between the Alliance and the Horde. As players journey to the new level cap of 85, they'll discover newly revealed locations, acquire new levels of power, and come face to face with Deathwing in a battle to determine the fate of the world."