Durring the Comic-Con, Microsoft and LucasArts have unveiled a new special edition Xbox 360 bundle, featuring R2-D2 blue-and-white themed console with custom sounds for Power on and Tray eject,  along with C-3PO inspired wireless controller and white Kinect sensor.
The new Star Wars themed Xbox 360 bundle is fitted with 320 GB Hard Drive and also comes Xbox 360 Wired Headset, Kinect Adventures game, Xbox LIVE Token for exclusive downloadable content and of course the Kinect Star Wars game. The new bundle is set to be released alongside with the upcoming Kinect Star Wars title, but is now available or pre-order priced at $449.99.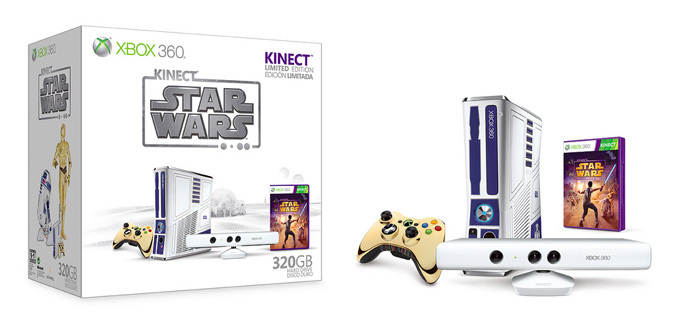 As for the game, it promises to bring the Star Wars universe to life like never before, allowing gamers controller-free using of  "the force" and to battle with a Lightsabers, using full body motions.