Long awaited by hardcore gamers and overclockers in every part of the world, the latest generation of graphics processors from NVIDIA is finally here, and ASUS is the first to prepare and release fully-optimized products that build on its many new features to deliver total gaming frills and immersion.
Gearing Up for Action
The new graphics cards from ASUS deliver all the benefits of the debuting 40nm NVIDIA GPUs, possessing considerable power improvements compared to their predecessors. They come in two varieties in the initial launch. The flagship ENGTX480 uses the GTX480 core with 1401 stream processors and a 384-bit memory interface. This is a frontline extreme performance board with a 700MHz core clock and 1536MB of 3696MHz GDDR5 memory.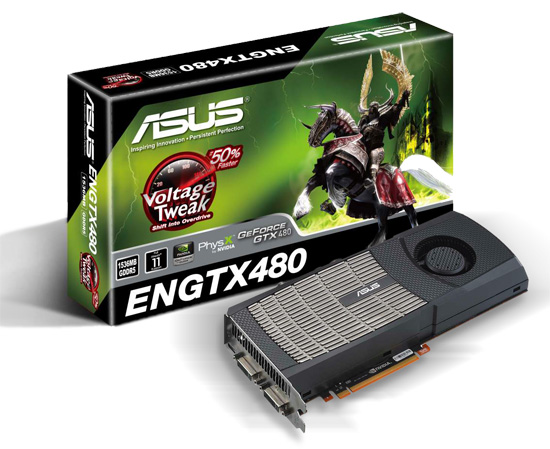 It's accompanied by ASUS' powerful mainline ENGTX470, which is a 1215 stream processor version of the NVIDIA GTX470 chip. It packs a 607MHz core and 1280MB of GDDR5 RAM at 3348MHz with a 320-bit interface.
Full Spectrum Awesome
Both new graphics boards feature the usual ASUS panache for exceeding reference designs with generous features and add-ons that lead to giant performance gains.
ASUS unlocks the real potential of this all-new and exciting technology by paving the way for unadulterated overclocking. The company includes exclusive Voltage Tweak functionality via the Smart Doctor application, covering every possible overclocking and overvolting scenario. Beginners to veterans, gamers can make the most of the new GPUs using detailed tweaking options that can easily boost performance by up to 50%. With added cooling solutions, even more radical speeds and improvements can be attained.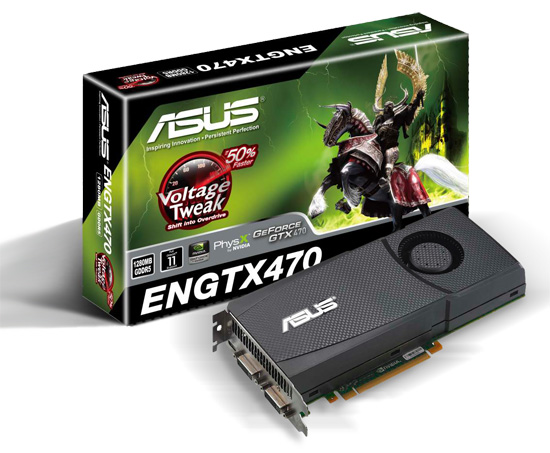 Users can even put their efforts to immediate test and gauge success rates with included advanced and entertaining benchmark interface Supersonic Sled. Another powerful software tool that's in the package is Design Garage, a luxury car-themed creative utility that demonstrates the capabilities of DX11 in a very interactive and impressive manner.
The quality build and thermal properties of ASUS graphics cards have won repeated acclaim over the years, and the new ENGTX480 and ENGTX470 are no exception. They are constructed to withstand punishing duty as pillars of serious gaming and overclocking with extreme cooling solutions and thermally-efficient board materials.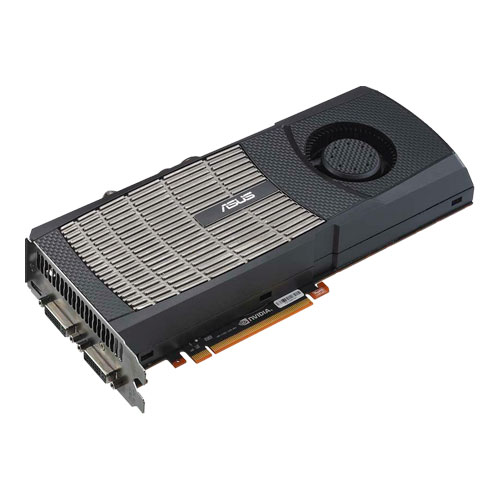 Ready to Amaze
One of the greatest advantages of the new graphics cards is that they are 100% DX11 ready. This means new graphics features such as advanced tessellation for detailed objects, interactive ray tracing in real time and the latest version of NVIDIA's PhysX can be put to full use as intended.
The two cards further offer NVIDIA CUDA and DirectCompute parallel processing, whereby their great power can be harnessed in general computing – boosting the overall performance of the entire system even in non-graphics applications.
Also on board is the exciting NVIDIA® 3D Vision™ technology, part of the new move towards genuine 3D gaming at the home. Hundreds of game titles already support this technology, with more coming out constantly.
Enthusiasts have waited a long time for the new 400 series of GPUs from NVIDIA, which promises at least three times the performance levels of the previous mainstream desktop 200 series.
Only ASUS designs do justice to the new technology and so, it's safe to say the wait is over.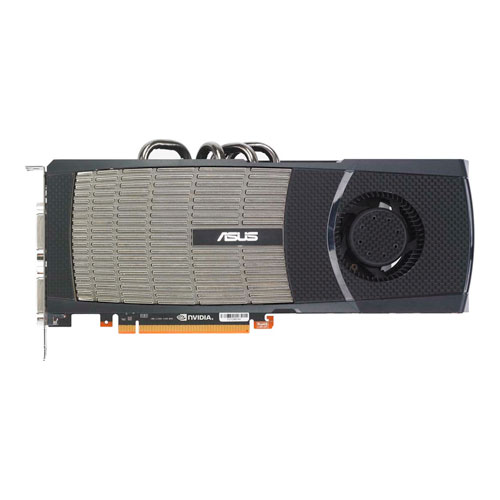 Specification:
Graphics Engine
NVIDIA GeForce GTX480
Bus Standard
PCI Express 2.0
Video Memory
GDDR5 1536MB
Engine Clock
700 MHz
Shader Clock
1401 MHz
Memory Clock
3696 MHz ( 924 MHz DDR5 )
RAMDAC
400MHz
Memory Interface
384-bit
D-Sub Max Resolution
2048 x 1536
DVI Max Resolution
2560 x 1600
D-Sub Output
Yes x 1 (via DVI to D-Sub adaptor x 1 )
DVI Output
Yes x 2 (DVI-I)
HDMI Output
Yes x 1
HDCP Support
Yes
Adapter/Cable Bundled
1 x DVI to D-Sub adaptor
Software Bundled
ASUS Utilities & Driver
Design Garage&Supersonic Sled
Note
The card size is 11" x 5.5" inch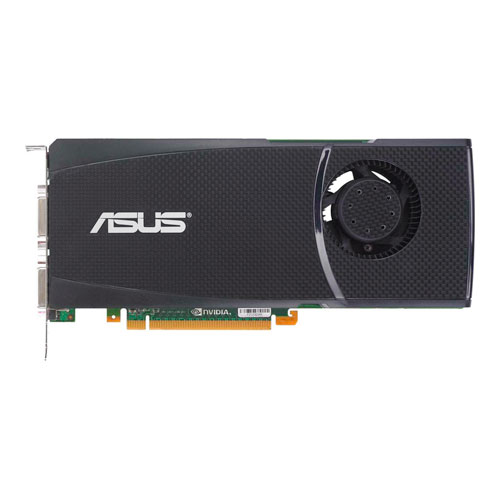 Graphics Engine
NVIDIA GeForce GTX470
Bus Standard
PCI Express 2.0
Video Memory
GDDR5 1280MB
Engine Clock
607 MHz
Shader Clock
1215 MHz
Memory Clock
3348 MHz ( 837 MHz DDR5 )
Memory Interface
320-bit
D-Sub Max Resolution
2048 x 1536
DVI Max Resolution
2560 x 1600
D-Sub Output
Yes x 1 (via DVI to D-Sub adaptor x 1 )
DVI Output
Yes x 2
HDMI Output
Yes x 1
HDCP Support
Yes
Adapter/Cable Bundled
1 x DVI to D-Sub adaptor
Software Bundled
ASUS Utilities & Driver
Note
Design Garage & Supersonic Sled Demo Application bundled.
HDMI output via Mini HDMI to HDMI Adaptor



















The Card Size is 10″ x 5″

Source: Asus