ASUS, a leading producer of innovative networking solutions,  announced the ASUS RT-N16, a technologically-advanced wireless router with a host of intuitive, easy-to-use features. Engineered for the future, the ASUS RT-N16 is a Wireless-N Gigabit Router offering three "S's" that fulfill users' all-around networking needs that no other brand can provide—Speed for ultra-fast data transfers, Simplicity for unparalleled ease-of-use and ease-of-setup, and Security for absolute peace of mind when performing online tasks. Such an unprecedented integration of powerful performance and user-friendly operation makes the RT-N16—and ASUS' full range of routers—the best choice on the market.
Speed: With a maximum wireless speed throughput of 300Mbps and 8 times faster operation, the ASUS RT-N16's data transfer performance is outstanding. It also enables 24/7 downloads to wireless clients even when PCs are turned off.
Simplicity: The ASUS RT-N16 is equipped with an innovative EZ UI which lets administrators easily setup and manage their network environments. Home and business users can seamlessly allocate bandwidth to suit their specific needs, share multimedia content and setup printer or scanner functions.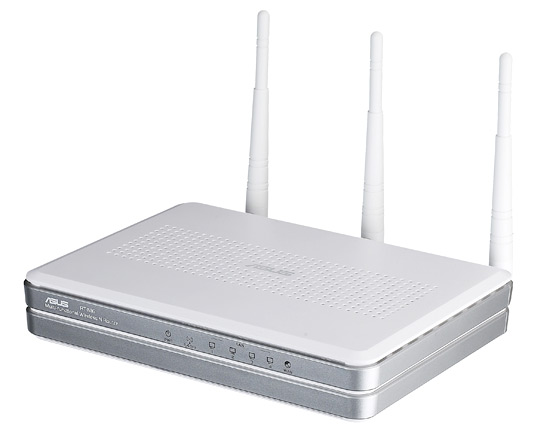 Security: With support for WPS (Wi-Fi Protected Setup), the ASUS RT-N16 lets users set up secure Wi-Fi Networks within minutes and lock down the network to prevent potential intrusion by unauthorized outsiders.
Speed: Engineered for 8 Times Faster Operation and 300Mbps Performance
Ultra-fast and Convenient Downloads with the Revolutionary Download Master
The ASUS RT-N16 supports the latest Wireless-N Local Area Networking standard for wireless communications. Home users and businesses can experience the ultimate in wireless performance with maximum data speeds of 300Mbps. Combined with its powerful CPU, the ASUS RT-N16 delivers maximum bandwidth, ensuring effortless synchronous file transfers and downloads, flawless video streaming, incredibly low-ping wireless gaming, and VoIP calls with minimized jitter. Equipped with ample 128MB DDR2 video memory, it achieves eight times faster benchmarks, delivering exceptional multi-tasking with no system lags. Four Gigabit Ethernet ports are available for users to set up a wired LAN for faster transfer of data-intensive files. Additionally, two USB ports enable the creation of a secure network for sharing photos, data, audio visual files, and network resources such as a printer or storage devices.
Additionally, the Download Master provides up to 300,000 sessions for unparalleled P2P performance—offering an unprecedented 20 times larger bandwidth than traditional routers. Such a large volume of P2P or BitTorrent downloads are accomplished rapidly with assurance of complete data transfers throughout the day—even when the users' PCs are turned off. Despite such heavy loading, the ASUS RT-N16 can still allow more user connections onto the Internet, letting them run multimedia applications with ultra-stability.
Simple: Built with Easy Connectivity in Mind: EZ UI
The ASUS RT-N16 wireless router features EZ UI, a powerful graphical user interface that helps users manage their networks as well as set up a shared printer with the greatest of ease. With its auto-detection and network mapping capabilities, the wireless router simplifies the setup of multiple wireless clients. EZ UI comprises a whole host of innovative connectivity features such as the EZQoS, All-in-one printer, AiDisk, QIS (Quick Internet Setup), Network Map, Dr. Surf, and EZ MFP—all of which are controlled and managed through a single user interface.
The magnificent EZQoS feature lets an administrator easily allocate different bandwidth according to individual user needs, ensuring the smooth flow of data traffic and providing uninterrupted IP phone and A/V streaming. To support network usage of a shared printer, the EZ All-In-One Printer function allows multiple users to simultaneously access a printer and use its print and scan functions. Businesses can thus empower wireless users to perform printing tasks on networked printers without having to purchase a printer server. Another convenient feature is AiDisk which allows users to engage in file-sharing among peers in three easy steps.
Security: Secure Data Communication with WPS Support
The ASUS RT-N16 keeps streaming data safe from prying eyes with robust built-in WPS (Wi-Fi Protected Setup) capabilities. All data is automatically encrypted to prevent unauthorized viewing of information by an outsider. By supporting WPS, the ASUS RT-N16 lets users set up secure Wi-Fi Networks within minutes and lock down the network to prevent potential intrusion by unauthorized outsiders.
Specifications
Hardware

Ethernet ports
WAN x 1, LAN x 4 RJ-45 for 10/100/1000 Base-T
Supports Ethernet and 802.3 with max. bit rate 10/100/1000 Mbps and auto cross-over function (MDI-X)
Antenna
3 x external antenna
USB
2 x USB port
Power adapter
AC input 100V ~ 240 V; DC output 12V with max. 1.25 A current
Size
216mm x 161.9mm x 40.5 mm
Weight
470g

Wireless LAN

Operating Frequency
2.4~2.5 GHz
Data rate

802.11n Draft up to 300Mbps
802.11g 6, 9, 12, 18, 24, 36, 48, 54Mbps
802.11b 1, 2, 5.5, 11Mbps

Output power

n mode: 15.8~19.5dBm
g mode: 15.5~16.5dBm
b mode: 15.8~19.5dBm

Receiver sensitivity
(at normal temp. range)
At 54Mbps data rate
ANT0 -75dBm
ANT1 -75dBm
Encryption/Authentication

Supports 64/128-bit WEP
WPA-PSK, WPA2-PSK
WPA-Enterprise, WPA2-Enterprise
Radius with 802.1x
Software

Management

EZQoS (Easy Quality of Service): Allows multiple network activities (FTP, Gaming, P2P) to work smoothly at the same time
DHCP Server: Supports up to 253 IP addresses; Changeable DHCP lease time, IP pool, domain name; Static mapped IP
Web-based administration: Supports IE 5.5 or later, Firefox 2.0.0.1 or later; Managed from LAN and Internet; Password Setting
System Event Log
Firmware Upgrade: Web Interface, Bootloader
Save/Restore Configuration File

Internet connection type
Automatic IP, Static IP, PPPoE (MPPE supported), PPTP, L2TP
Security

Firewall: NAT and SPI (Stateful Packet Inspection), intrusion detection including logging
Logging: Dropped packet, security event, Syslog
Filtering: Port, IP packet, URL keyword, MAC address
Source: Asus