AMD announced that it will be introducing the new and most powerful graphics card ever manufactured by the company, the ATI FirePro V9800, at this week's IBC 2010 in Amsterdam.
ATI FirePro V9800 will feature the ATI Eyefinity Technology and support for up to six monitors, thanks to it.
"With today's announcement of the ATI FirePro V9800, we are introducing the ultimate workstation graphics solution for the professional graphics industry. It offers users with demanding DCC and visualization requirements six monitor support on one GPU and a superior price-to-performance ratio," said Janet Matsuda, senior director, Professional Graphics, AMD. "The ATI FirePro V9800 will be the professional graphics solution of choice for users requiring exceptional performance and flexibility."
The ATI FirePro Family will also be launched, while it includes ATI FirePro V8800, ATI FirePro V7800, ATI FirePro V5800, ATI FirePro V4800, and ATI FirePro V3800 – high performance at every price range.
Dr. Johannes Friebe, who is the sales director of Schneider Digital, said that they have tested the card, and with no doubt, it is very fast. He also said that just one card can hold the complete graphic data in only one frame buffer, and allows them to drive six monitors without the need of a sync card.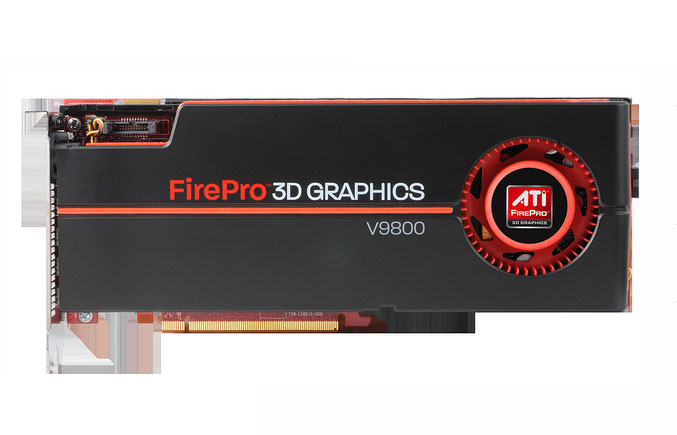 "The ability to drive six display outputs simultaneously and achieve such a large image on a very high resolution display is a great step forward for engineering collaboration," said Jerome Maillot, senior manager, Dassault Systemes. "Sharing a 3D model at full scale and achieving a significant cost reduction at the same time sounds like a dream, yet it is a reality. It is clear that the ATI FirePro™ V9800 professional graphics card has delivered the high level of technology that Dassault Systemes has come to expect."
The ATI FirePro V9800 showcases an amazing and advanced performance with high-end features, at the retail price of $3,499. The card features the ATI Eyefinity Technology which offers six Mini DisplayPort outputs and allows seamless plug and play multi-monitor use. It can also provide resolution in up to 5760 x 2160 pixels.

"Onboard GPU memory is critical for advanced visualization and is an area where the V9800 excels," says Yoni Koenig, chief scientist, StudioGPU. "MachStudio Pro software uses this memory to deliver the real-time cinematic-quality results 3D artists demand. Add together the 4 GB of memory and the native support for up to six monitors with ATI Eyefinity technology, and the combination of the V9800 and MachStudio Pro provide artists with the tools they need to effortlessly produce a visual feast."
The ATI FirePro V9800 comes equipped with 4GB of GDDR5 Memory, offering industry leading performance and visual quality. The card is optimized for stream calculations with the full support of OpenCL, DirectCompute and Microsoft DirectX 11.