Dell company officially presented two new monitor series G – G2210 and G2410. 22 "and 24" wide-screen devices are equipped with LED-backlit LCD, which spent half of the energy than similar models and less than 0.15W in sleep mode. Casing consist of 25 percent recycled materials. Additionally, the LED-backlit panels are 20 percent slimmer and 28 percent lighter than comparable models.
Both models have a 1000:1 contrast, response time 5 ms, brightness – 250 cd/m2. The resolution of the G2210 is 1680×1050, and G2410 – 1920×1080. The ports in the rear panel are D-Sub and DVI. Both monitors will appear on the market in February and the price of the G2210 and G2410 will be  $ 279 and $ 359 respectively.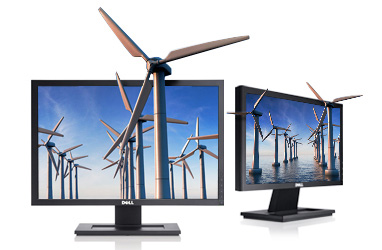 Key specifications

Viewable image size: 22-inch diagonal (G2210) / 24-inch diagonal (G2410).

Typical contrast ratio: 1,000:1 (standard) 1,000,000:1 (dynamic).

Maximum resolution: 1680 x 1050 (G2210) / 1920 x 1080 full HD (G2410).

Typical power consumption: 18W (G2210) / 20W (G2410).

Response time: 5ms black-to-white.

Available connectors: VGA (analog), DVI-D (digital) with HDCP.

Energy efficiency

Typical average power consumption is less than half that of comparable flat panel monitors.

Less than 0.15W of power consumption when in sleep mode – no power is drawn from the host computer.

Built-in ambient light sensor responds to surrounding brightness, automatically adjusting levels when enabled.

Dynamic dimming automatically decreases the onscreen brightness when the image consists primarily of white and/or bright areas when enabled.

"PowerNap" screensaver application dims the monitor to minimum brightness or "sleep" mode, based on user preference.

Environmentally preferable materials in equipment and packaging

Free of PVC, BFR, CFR, arsenic and mercury.

External chassis made of more than 25 percent post-consumer recycled materials.

Reduced waste:

Up to 20 percent slimmer panel than comparable models.

Up to 28 percent lighter than comparable models.