eMachines introduced all new, luminous white mini-tower PCs and matching monitor, bringing a fresh new look to PC computing.
Sporting a bright and shiny white design accented with green LED lighting, the eMachines ET1300-02, ET1810-01 and ET1810-03 desktop PCs all deliver solid performance and expansion capabilities in a fresh new alternative design. Bundled with a matching keyboard and widescreen display with built-in speakers, they're a smart addition to any room in the house.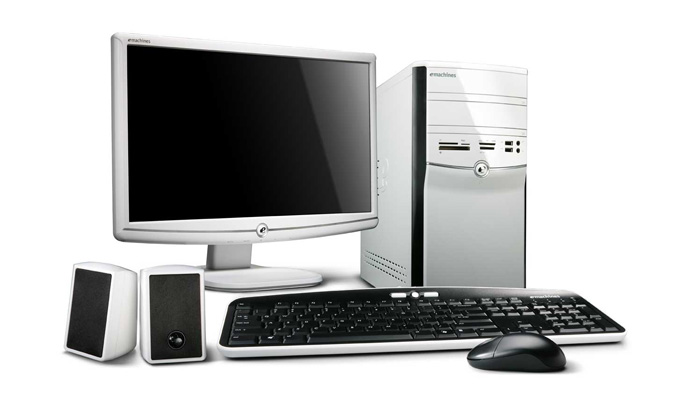 "Consumers on a budget looking for a solid performing PC will find some great choices in the new eMachines line-up," Glenn Jystad, senior manager, desktop products, eMachines. "Our new mini-towers provide the horsepower and technology needed for today's applications at a very reasonable price, and are stylish and compact as well."
With prices ranging from $299.99 to $449.99, the new eMachines PCs are ideal for a wide range of uses and applications. They include AMD or Intel processors and 2GB or 3GB of DDR2 memory, providing solid performance for back-to-school, home office or general home use. Consumers doing photography, video and casual gaming will appreciate the crisp, vibrant images NVIDIA graphics brings to their digital entertainment.
With 160GB or 320GB hard drives, there's plenty of storage for managing movies, music and photo libraries. A conveniently located media hub on the front of the PC makes it easy to connect peripherals and to transfer data from cameras, flash drives and other devices.
Complementing the new PCs is the eMachines E182H wm 18.5-inch widescreen LCD display. Perfectly matching the new desktops' vivid white exterior, it delivers crystal clear visuals and high definition audio through built-in speakers. With 720p high definition support, a 10,000:1 contrast ratio and quick 5ms response time, the E182H wm display provides a first rate and immersive digital experience for gaming and watching movies.
The 1366×768 resolution and 300 cd/m2 brightness further enhance the visual performance. It also includes a VGA input for stunning visual quality and is VESA compatible for multiple mounting options, whether on a desk or on the wall.
eMachines ET1300-02
AMD Athlon™ X2 4850e Dual-Core Processor (2.5GHz, 512KB x2 L2 cache)
Windows® Vista™ Home Premium with Service Pack 1
NVIDIA® GeForce® G100 w/512MBMB
3GB DDR2 memory
160GB SATA (7200 RPM) hard drive (1)
18x DVD+/-R/RW SuperMulti Drive featuring Labelflash™ Technology (2)
Multi-in-one digital media card reader
VGA, DVI and HDMI connectors
6 USB 2.0 ports (2 front / 4 rear)
18.5-inch widescreen LCD with built-in speakers (eMachines E182H wm)
$449.99 MSRP
eMachines ET1810-03
Intel® Pentium® Dual-Core Processor E2210 (2.2GHz, 1MB L2 cache)
Windows® Vista™ Home Premium with Service Pack 1
Integrated NVIDIA® GeForce® 7050 graphics
3GB DDR2 memory
320GB SATA (7200 RPM) hard drive (1)
18x DVD+/-R/RW SuperMulti Drive featuring Labelflash™ Technology (2)
Multi-in-one digital media card reader
6 USB 2.0 ports (2 front / 4 rear)
1 VGA port
$369.99 MSRP
eMachines ET1810-01
Intel® Celeron® Processor 420 (1.6GHz, 512KB L2 cache)
Windows® Vista™ Home Basic with Service Pack 1
Integrated NVIDIA® GeForce® 7050 graphics
2GB DDR2 memory
160GB SATA (7200 RPM) hard drive (1)
18x DVD+/-R/RW SuperMulti Drive featuring Labelflash™ Technology (2)
Multi-in-one digital media card reader
6 USB 2.0 ports (2 front / 4 rear)
1 VGA port
$299.99 MSRP
eMachines E182H wm Display
18.5″ Widescreen Viewable TFT Active Matrix
16:9 Aspect Ratio
1366×768 (HD Ready) Resolution
CrystalBrite
Inputs: 1xVGA, 1xPC audio
5 ms Response Time
300 cd/m2 Brightness
10000:1 (Dynamic) Contrast Ratio
170(H) / 160(V) Viewing Angle
16.7M Color Depth
Built-in stereo speakers
Energy Star compliant
Vista Premium Certified
$129.99 MSRP

Source: eMachines